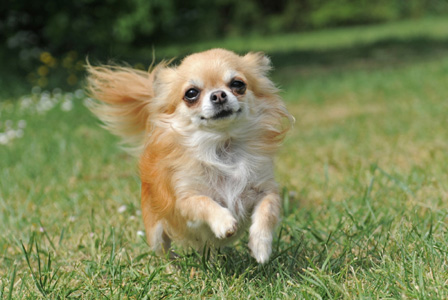 You've seen them in movies, commercials and Paris Hilton's couture handbags. From their puppy-dog eyes to their pocket size, there's something about Chihuahuas that tug at our heartstrings.
ALL YOU WANT TO KNOW ABOUT THE BREED
Believe it or not, there's much more to these little pups than being adorable. If you're thinking about adding a Chihuahua to your family, here's the lowdown on this tiny breed.
Characteristics
Don't let their compact size fool you -- when it comes to Chihuahuas, big personalities come in small packages. Confident, intelligent and passionate, Chihuahuas love to play, cuddle and speak their minds when necessary. These little guys take loyalty to the next level. Primarily bred as human companions, Chihuahuas are known for attaching themselves to their owner. They can be protective, territorial and even jealous. Undeterred by their small size, Chihuahuas use their loud, high-pitched barks as a way of "guarding" their beloved masters.
Grooming
Whether you opt for a pet with a smooth coat or a long-haired Chihuahua, grooming for this breed is fairly low-maintenance. No shedding means less household cleanup and their size makes them easier to bathe at home. Don't confuse low-maintenance for no-maintenance, though. For long-haired Chihuahuas, keep their coats looking sharp and tangle-free by brushing two to three times per week. Think of grooming as an opportunity for extra bonding time with your pint-sized partner.
Training
Focus on early training for your Chihuahua. Their typical temperament of self-importance and self-reliance can make this breed tougher to train as they get older. Chihuahuas are very intelligent and can do well with formal training; pride and stubbornness as they age could be the only factors working against proper training. Extreme loyalty to their owners plays a big part in their listening skills, as Chihuahuas are likely to obey their masters.
Health
Not prone to many health issues, Chihuahuas rarely suffer from serious illness. Although basic vaccinations and care are sufficient for sustaining a Chihuahuas health, there are some minor breed-related concerns to look out for. It is recommended to consult with your veterinarian if your Chihuahua shows signs of lethargy and sleepiness, as these could be symptoms of hypoglycemia. Chihuahua owners should also beware of a soft spot in their skull known as a molera. As the only breed born with an incomplete skull, it is important to treat this breed with extra gentle care, especially during the first six months of growth.
Best fit
Chihuahuas are a great fit for all, but households with young children may want to think twice about bringing home this tiny breed. Due to their size, Chihuahuas must be handled with gentle care and require constant supervision around young children. Chihuahuas make excellent companions for apartment dwellers and families with older children as they require little maintenance and space.
Tell us
What is your favorite dog breed? Share in the comments section below!
More tips for pet owners
What to look for in pet food ingredients
How to maximize quality time with your pet
Using GPS to track your pet
More From SheKnows Explorer