Pet Apps
For Pet Lovers
If your smartphone has more pictures of your furry friend than of your spouse, boyfriend, or kids, there is no question your pet is one of your favorite family members. Because you aren't alone, there is a growing number of pet apps for dog and cat lovers that can keep your pet's information organized and at the very least keep you entertained. Here are five of our favorite pet apps.
Pet Notebook
This is the ultimate organizer of all things pet, whether you have one or a half dozen furry critters. This pet app features a pet picture gallery, veterinary and medications organizer, identification screen (name, birthday, registration, microchip, and breed), notes, and custom information lists. Best yet, you can edit all of the data, which is bound to change as your pets get older.
Available: iTunes
Price: $.99
Pet First Aid
We never want our pets to fall ill or get injured, but being prepared for the worst may just save our pet's life, especially when minutes count. This medical pet app features articles, videos, and illustrations covering everything from pet CPR, bleeding, poisoning, and broken bones to normal vital signs, muzzling, administering medications, and disaster preperadness. Pet First Aid also allows you to record your pets' medical history.
Available: AppAdvice
Price: $3.99
Petcentric
A pet app by Purina, Petcentric gives pet lovers an on-the-go guide (that conveniently uses Google maps) for finding pet-friendly places, such as dog parks, lodging, restaurants, animal shelters, pet stores, veterinarians, kennels, groomers, and pet walkers/sitters. This pet app also features pet videos, tips, news, community pet photo gallery, and events in your area or wherever you happen to be traveling.
Available: iTunes
Price: Free
Cat Training
Are your feline terrors shredding furniture or eating your houseplants? Download this cat app for solutions to your worst furry four-legged problems. Though cats are naturally independent, they really can be trained -- from breaking bad behaviors and teaching them tricks to effective ways of getting your cats to give you the respect a loving cat lover deserves.
Available: iTunes
Price: $.99
Fail Dogs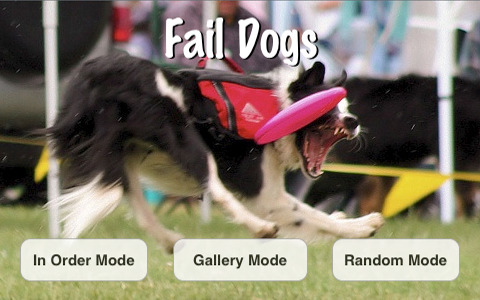 I have come across this app in more than a few pet-oriented articles and I can't help but include it here (for less than a buck, it's cheap, hilarious entertainment). This dog app features photos of dogs failing to live up to their breed. Yep, you'll see Fido get owned by a cat, Ruff get smacked by a frisbee, and Fifi forget how to fetch. If you have a trick-mastering dog, Fail Dogs will make you even prouder of him; however, if your dog doesn't quite have dog-ness down, at least you know he isn't the only canine who can't get it right.
Available: iTunes
Price: Free
More on pets
Keeping your pet safe in the car
Is your dog keeping you awake at night?
Eco-friendly pet pampering