Weight Loss
Tips For Dogs
When Fido can't push his pudgy rolls through the doggy door anymore, you know things have gotten out of hand. Pet obesity is on the rise with an estimated 45% of American dogs that are either overweight or obese. Obesity causes many serious and even potentially fatal health problems in dogs just as it does in humans, but how can we help our canine friends control their weight and get in shape?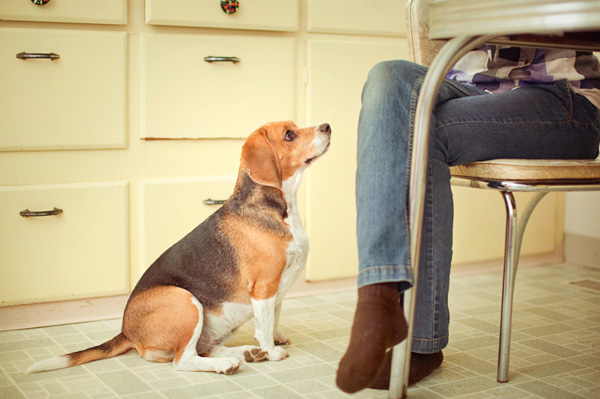 Supersize me
Both animals and humans in the United States are experiencing an obesity epidemic. "As a practicing veterinarian for almost 20 years, I've never seen this many overweight pets," said Dr Ernie Ward, author of Chow Hounds: Why Our Dogs are Getting Fatter -- A Vet's Plan to Save Their Lives. "We're witnessing the super-sizing of America's pets before our very eyes." Not surprisingly, the cause of the obesity epidemic in humans and their pets is also the same. Both are getting fat because of the overabundance of available food and a simultaneous reduction in physical exercise.
This is a serious problem for everyone because just as obesity causes many health concerns for humans, the risks for animals are equally disturbing. Osteoarthritis, type 2 diabetes, kidney disease, reproductive problems, digestive disorders, high blood pressure, heart disease, respiratory disease and many forms of cancer are just some of the risks for dogs that are over their ideal weight.
Make your dog your work-out partner
One of the best ways to battle the obesity epidemic is to increase physical activity. Gratefully, dogs love to get out there and play, and they make great work-out partners too! Not to mention, the increased physical activity will not only help your dog lose weight, but is good for your dog's emotional well-being as well. According to Kansas State veterinarian and assistant professor of clinical sciences Dr Susan Nelson, "Dogs also need an outlet to relieve their energy or else they may develop destructive behavior. Your dog is going to be happier and more content if it receives adequate exercise."
Studies show that people who exercise with their dogs are more likely to stick with a weight loss program. Walking, running, swimming, playing Frisbee and other games are all great activities to do with Fido. Plan ahead and make fitness part of your daily routine and both you and your dog will reap the benefits.
Nutrition and diet
There are a variety of excellent prescription dog foods that will help your dog to consume less calories while maintaining proper nutrition and still feeling satisfied. Many brands even sell pre-measured portions that eliminate the guesswork so you know your pet is getting exactly what he needs. Check with your veterinarian for a weight-loss program specifically tailored to your pet.
Reduce or eliminate snacks
Do you let your dog lick your plate after dinner each night? Do you give him little treats throughout the day to encourage him and make him feel loved? These extra snacks alone could be the cause of your dog's weight gain. Table food and treats should never comprise more than 5 to 10% of your dog's dietary intake.
Monitor progress
Keep a journal of your dog's daily food intake, snacks, exercise and weekly weigh-in. Over time you will be able to see the progress of his weight loss. Once you have reached your dog's goal weight, you can ask your veterinarian to help you plan an appropriate weight management program.
More ways to keep your dog healthy
More From SheKnows Explorer