Doggy And Me
Workout Tips
Is your dog a bigger couch potato than you? Do you laze around on the weekends sharing snacks in front of the TV? If so, it might be time for a change. Obesity is on the rise in America for both people and their furry friends. If you are looking for some fun exercises you can do with your favorite canine companion, you've come to the right place. Try out some of the exercise tips we've compiled below and you'll both be back in shape in no time at all.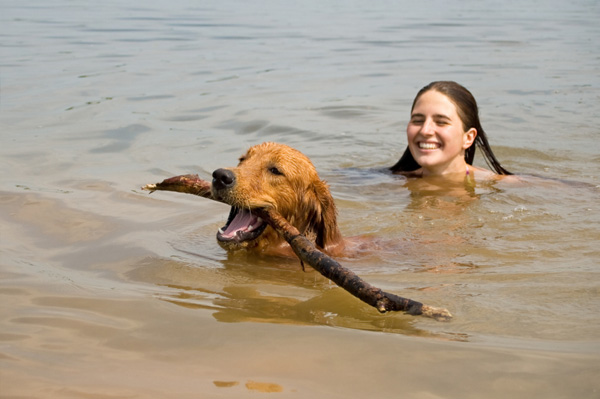 Why exercise with your pooch?
Research shows that both people and dogs benefit when they exercise together. People tend to stick to a fitness program more diligently when they have a pet partner and Fido reaps the benefits too! If you and your dog are trying to stick to a weight loss routine, consider some of these fun activities.
Walking
Do you have a nature trail or forest preserve near your home? "Walking, of course, is one of the very best exercises for both you and your dog," says DVM and former editor-in-chief of the Journal of the American Holistic Veterinary Medical Association Jean Hofve. A low-impact activity that just about anyone can do, it still burns plenty of calories and gets that heart pumping. "If you have a very active dog, hiking is a bit more challenging." Pack a couple of water bottles and enjoy the beautiful sunshine with your favorite pooch.
Running
Jogging or running is another great activity to do with a puppy or young adult dog. Make sure that both you and your dog stretch out and warm up ahead of time so no one pulls a muscle. Never run in very hot weather. Dehydration can be extremely serious. Make sure to take plenty of water or plan your run along a path that has a drinking fountain on the way.
Dog yoga
It may sound like a joke, but it's not. Doggy yoga or Doga is the latest craze in doggy exercise. Doggy and me yoga classes are sweeping the nation like wildfire as people sign up to take yoga classes with their favorite canine friends. Human yogis and their little dogis do poses together that are said to relax muscles, improve digestion and increase heart function in dogs, while also reaping the usual benefits on their human partners. Not to mention, these classes are touted for increasing bonding between people and their (literally) downward facing dogs.
Swimming
Do you love to swim? Try taking your dog next time you go out for a dip in the local lake. Holistic veterinarian Hofve recommends swimming as a good activity to get Fido moving. It is a great low-impact sport suitable even for older dogs with arthritis. "If you don't have a suitable lake nearby, canine rehabilitation centers are popping up all over," Hofve explains. Bring along some fun water toys like floating balls and Frisbees. You and your pooch will have a blast racing to see who can swim out and catch them first.
Staircase work-out
Weather bad and you're stuck inside? Try turning your staircase into your own private gym. Play fetch with your dog by tossing a ball up and down the staircase. You'll both get an incredible workout while chasing each other up and down the stairs.
More on dog yoga
Humans aren't the only ones gaining the benefits of yoga. Dogs can too, at the Lakeshore Athletic Center in Chicago. Chicago Revealed uncovers what dog yoga, or doga, is all about, and host Katie Kijowski gives it a try with a Pomeranian.
More ways to keep your dog healthy
More From SheKnows Explorer