Cat Work-Out Secrets
You know Mr Fluffypants has a problem when his pot belly begins to rival your husband's. But getting him to exercise doesn't seem any easier than getting your husband's attention when he's watching football. What to do? How about trying some of these cat work-out secrets below?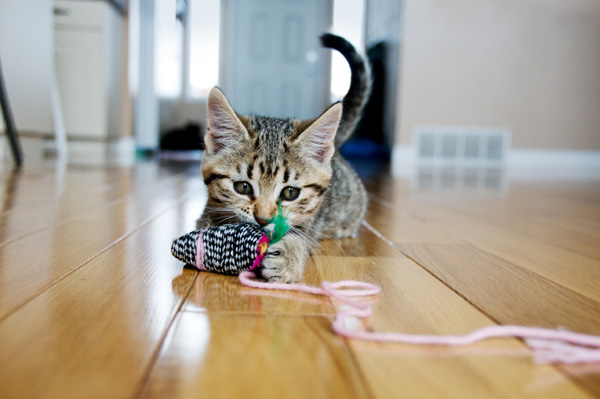 Why cats need to play
Before cats were domesticated, they spent a great deal of time hunting and playing in the wilderness. Nowadays, many cats do not go outdoors and a majority of cats in the United States are actually overweight or obese. "The health problems caused by obesity are the same we see with people: joint and muscle pain, impaired cardiac function and respiration, cancer and diabetes," says Stephen Zawistowski, executive vice president for ASPCA and a certified applied animal behaviorist. Not to mention, "Fat pets tend to be cranky, because it's physically uncomfortable for them to move."
If you are looking for fun activities to increase your house cat's daily exercise, remember that cats are prey animals who enjoy play that stimulates their hunting instincts. They like to stalk, chase, swat and pounce. Without fun toys and caregivers that interact with them in a playful way, cats can become bored and lethargic. The cat exercise tips in the list below are not only good for their physical well-being, but stimulating for their emotional and mental health as well.
Play chase
Although most cats can't even be bothered to come if you call them (unless there is food involved), there aren't too many who can resist a good game of chase. Cats have natural instincts that make them want to hunt. Use a feather toy, a long strand of yarn or any kind of flexible wand-toy to get your cat up and moving. "Interactive play with a wand or fishing-pole type toy is fabulous exercise, usually quite funny, and extremely satisfying for the big hunter in your little cat," says Jean Hofve, DVM, former editor-in-chief of the Journal of the American Holistic Veterinary Medical Association and author of The Complete Guide to Holistic Cat Care: An Illustrated Handbook. "You can make it more challenging by running the toy up and over the sofa or up and down stairs to increase the exercise intensity."
Build a cat tower
Cats love to climb, scratch and sneak into small spaces. How about building your feline friend an upholstered cat tower that will encourage him to jump from place to place? Mr Fluffypants will love being king of the castle and will enjoy scratching his claws against the carpeted posts. You can also use the tower as a space to play games with him that will motivate him to jump from one level to the next.
Use foraging toys
Because indoor cats don't have real life opportunities to run and hunt for prey, they can easily succumb to weight gain. Foraging toys are the perfect solution. These food dispensing containers are like a puzzle for cats. They can see and smell the food inside, so they are motivated to bat them around and play with them until they can release the kibble. You can buy foraging toys at many pet stores or you can make your own out of old shoe boxes or plastic containers. Keep it exciting for your cat by rotating different foraging toys daily.
Make an obstacle course
Turn your old boxes and bric-a-brac into a fun house for your cat. Create a variety of obstacles for your cat to climb through by stacking cardboard boxes, overturned furniture, pillows or other household items. Get your cat interested by aiming a laser pointer at different spots and your cat will go crazy leaping around while trying to catch the light.
Design a homemade hockey rink
Plastic caps from milk jugs or juice containers make great hockey pucks. Toss one on any tile or wood floor and you have an instant hockey rink. Or throw a ping pong ball into an old box or dry bathtub for a similar effect. Your cat companion will love batting these homemade pucks around his own private court.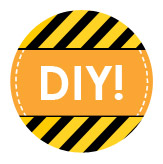 DIY Cat tower
Homemade cat tower cat tree
Learn how to make a simple and budget-friendly cat tree.
More ways to keep your cat healthy
More From SheKnows Explorer