Feline Diet Tips
Is your kitty battling the bulge? Does his belly wobble like a bowl full of jelly? Have you fantasized about taking your cat along to Zumba class? Fat cats may be cuddly and cute, but they aren't healthy. In fact, an estimated 54 million cats in the United States are either overweight or obese. Just like humans, this extra weight puts our feline friends at risk for a variety of health problems and a shorter life span.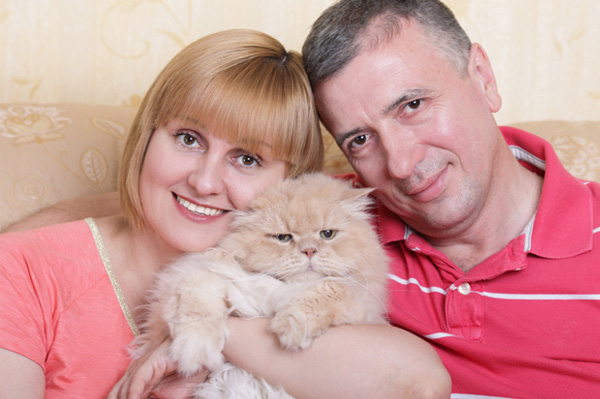 Battle the bulge
If you are worried that your cat might be on the chubby side, take him to the vet for an examination. The veterinarian will determine how much weight your cat needs to lose and help you develop an appropriate weight loss program. There are a variety of things you can do to help your little Garfield slim down and get back in shape.
Diet change
Changing your cat's diet is one of the most effective ways for you to help your cat lose weight. Cats need a diet that is specially balanced with high protein, fat, vitamins and minerals. A prescription diet food may be the best way to make sure your cat is getting all the nutrients he needs while controlling caloric intake. Gratefully, unless your cat is Garfield and can order his own lasagna, you will be able to control the amount of food he is getting and you should see weight loss results within a short period of time.
Don't leave the food bowl out
Cats can be tempted just like humans. Would you be able to resist if you spent your whole day staring at a bowl of tasty BBQ potato chips?
If you are used to leaving a bowl of food out for your pets to munch on throughout the day, you may want to consider switching to serving your cat "meals" twice a day. This will cut down on your pet's ability to overeat by snacking.
Cut back on treats
Do you like to give your cat a lot of treats or table food? This could be part of the problem. Just like people, cats can get fat on too many snacks. Cat treats should never account for more than 10% of your cats daily caloric intake. Make sure you are counting the calories of the treats when you are determining how much to feed your kitty, or you could be inadvertently overfeeding him.
Keep kitty fit with daily exercise
Cats don't like to exercise the way dogs do. You can't just throw a leash on your kitty and expect him to jog around the block. But there are some creative tricks you can use to get your cat moving. Cat condos or other climbing toys with tunnels, scratching posts and various levels are always good for encouraging your cat to move around.
Try setting aside 10-15 minutes a couple of times a day to play with your cat. You don't need to spend a lot of money on fancy cat toys. Grab some feathers, flashlights, old boxes, ping pong balls and yarn. You and your cat will have a ball while he battles the bulge and gets his kitty groove back. Kapow!
More ways to keep your cat healthy
More From SheKnows Explorer