The Dangers
Of Pet Obesity
He's not just a pet, he's a friend and a confidant. Heck, you're closer to Mr. Whiskers than you are to many of your blood relatives. And what better way to show your furry friend how much you love him than by giving him an extra treat? Sure, he's packing on the pounds, but that's no big deal. Just more of him to love, right? Wrong. Very wrong.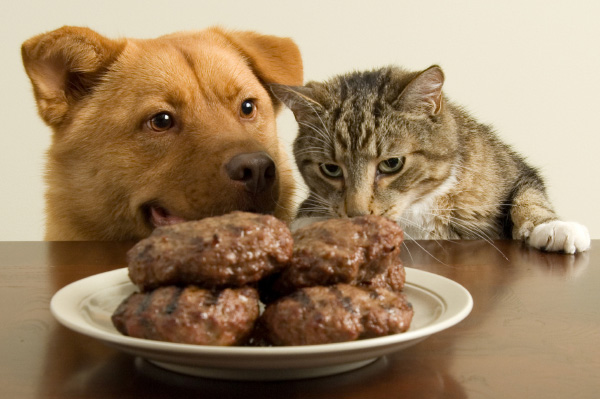 Overfeeding
The results of overfeeding an animal can be incredibly damaging to their health. According to the Association for Pet Obesity Prevention, the health problems associated with pet obesity are many and serious. These obesity triggered health conditions include painful joints, high blood pressure, heart and respiratory disease, damaged ligaments, kidney disease and many types of cancer. The sad truth is that in addition to suffering from these conditions, an overweight pet lives two years less than an animal at a healthy weight.
Health
But your pet isn't really overweight. Sure, she's technically three pounds above her ideal weight, but three pounds certainly can't shave time off your pet's life, right? Actually, it can. Just a few pet pounds can mean a world of difference in terms of their health. Dr Ernie Ward, founder of the Association for Pet Obesity Prevention and author of Chow Hounds: Why Our Dogs are Getting Fatter, puts these pounds in perspective. "Did you realize a 12 pound Yorkie is the same as an average female weighing 218 pounds and a 14 pound cat is equivalent to a 237 pound man?" Like dog years, there is such a thing as pet pounds.
Body
With over half of American house pets being overweight, we're all so used to looking at pudgy pets that it's hard to gauge whether our own pets are at a healthy weight. According to Dr Justine Lee, veterinary specialist and author of It's a Dog's Life... but It's Your Carpet and It's a Cat's World... You Just Live in It, you can get a general sense of your pet's weight health by looking at some key factors. You should be able to see your pet's ribs when he runs or stretches out. There should be a clearly defined waist with no potbelly and the hips and pelvis should be bony, not cushioned in fat. To get some perspective on where your pet stands in terms of poundage, check out this Pet-to-Human Weight Calculator.
So, take a peek at your pet, crunch some numbers into the calculator, and talk to your veterinarian about your pet's ideal weight. If Mr Whiskers is a little over, get cracking on bringing him down to a safe number. We all want our furry friends to be in the kind of shape that will keep them around for years of healthy fun.
More ways to keep your pets healthy
More From SheKnows Explorer