Recommended Daily Diet For Your Kitty
Your cat has become a little lethargic, she has a belly and seems wobbly where she used to be sturdy. You know these are signs of pet obesity, but you don't feed your cat too much. How can she be obese? Actually, you probably do overfeed her without intending to. It's surprising how little veterinarians recommend for a cat's daily diet.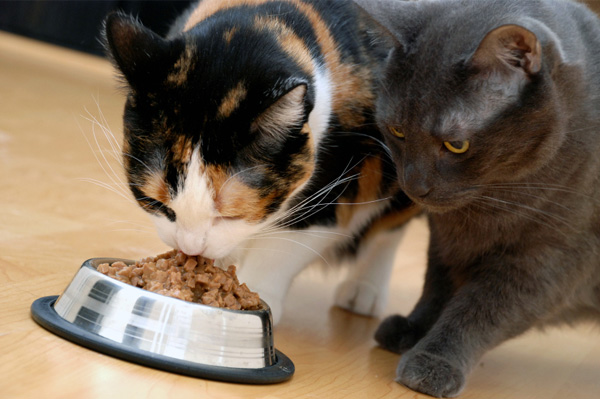 Cats and calories
While cats certainly vary in size and activity level, the general rule for cats is to keep them at around 200 calories a day. 200 calories. Think about that. That's how many calories are in your average granola bar (not the low-fat ones, the good ones.)  It's a teeny, tiny amount of food and going over, even just a little, can have serious detrimental consequences on your cat's health.
The expert consensus is that you have to measure everything that goes into your cat's mouth. Eyeballing it just doesn't cut it. Dr Ernie Ward at the Association for Pet Obesity Prevention investigated five popular brands of dry cat food and found that if an average cat was fed ten extra kibbles per day, it would add on an extra pound of weight in a year. One pound may not sound like a lot, but if your cat initially weighed in at  8 pounds, that's a 12.5% weight increase.
If you have more than one cat, keeping each to the 200 calorie limit might involve some juggling. You certainly don't want to leave food out at all times because there's no way to know how much each cat is consuming. Lindsay Stordahl, owner of Run That Mutt and blogger at ThatMutt.com recommends giving each cat a measured amount of food and supervising them while they eat. Give them 5-10 minutes to eat, and then put the food away before any snatching or overeating occurs.
Ideal body weight
When calculating how much to feed your cat, it's also important to use her ideal body weight as the metric, not her actual weight. For example, Dr Justine Lee, veterinary specialist and author of It's a Dog's Life... but It's Your Carpet and It's a Cat's World... You Just Live in It, found that most people think that because their cat currently weighs 12 pounds, they should feed her according to the directions for a 12 pound cat. In actuality, their cat should weigh 8 pounds and they should be feeding for an 8 pound cat, regardless of the animal's current weight.
To sum up, the rules of feeding your cat are to know her ideal weight, calculate how many calories a day she should be eating, and measure before you put out her food. Good luck getting your kitty to a healthy weight. And remember, a veterinarian is always a good first stop before you take the plunge into restructuring any pet's daily diet.
More ways to keep your cat healthy
More From SheKnows Explorer