How'D Your Cat
Get So Fat?
She waddles instead of walks, only moves when food's involved, and reminds you more of a bump on a log than a living creature. No, we're not talking about your mother-in-law. We're talking about your cat. She's a fatty.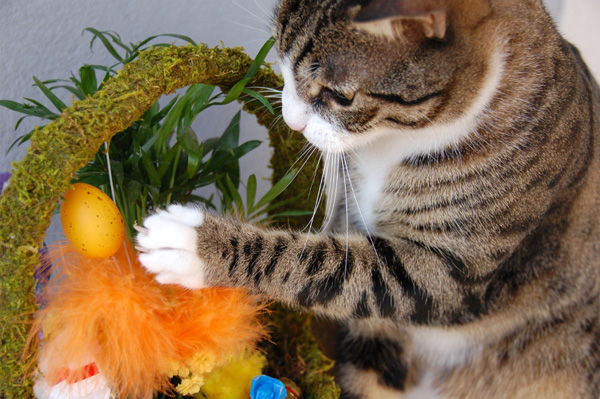 But how did she get that way? You swear you're not overfeeding her, but something's got to be going wrong. She's still so plump and that scale doesn't seem to be moving. Well, here are five common, but not well-known, factors that could be making your cat fat.

All day buffet
Lindsay Stordahl, owner of Run That Mutt and blogger at ThatMutt.com, says that cat owners need to place small portions of cat food out instead of lumping one giant serving in a bowl for the entire day. Cats won't always self-regulate with food, so you need to measure out distinct servings for them.
Dry food
Jean Hofve, DVM, holistic veterinarian and author of The Complete Guide to Holistic Cat Care: An Illustrated Handbook, recommends against feeding your cat dry cat food. It's a highly concentrated source of calories, packed with carbohydrates and sprayed with fat. "A wet food diet is much more suited to cats' needs," she says. "Wet food tends to contain better quality ingredients, the moisture content helps keep the kidneys and bladder healthy and it's more filling." Your cat will be happier with an upgrade to wet food, for sure.
Spaying and neutering
"Believe it or not, this dramatically slows down their metabolism," says Dr Justine Lee, veterinary specialist and author of It's a Dog's Life... but It's Your Carpet and It's a Cat's World... You Just Live in It. As soon as the procedure is done, consult with your veterinarian about how to adjust your cat's diet. Typically, there should be about 10 to 20% less calories consumed per day post-operation.
Age appropriate eats
Dr Lee also advises against feeding your cat kitten food for any longer than her first 10 months. Kitten chow is especially designed for growing cats. Once she's done with a majority of her growing, switch to senior-level food. Even if your pet isn't a senior, it's the right thing to do. It's higher in fiber and will help your cat feel fuller longer.
Limited exercise
Cats that stay indoors typically don't get enough exercise. Dr Lee says that as little as five minutes of solid exercise can make a difference in your kitty's health, so set a timer and get out your toys, laser pointer or even a crumpled up piece of paper, and play with your pet.
Hopefully these five hints will give you some insight into why your kitty is packing on the pounds and help you get her down to a purr-fect weight.
More ways to keep your cat healthy
More From SheKnows Explorer