The Bigger,
The Better
Leave the pampered Pomeranians to celebrities and socialites--some of us look for a little more in a dog, whether it be for an exercise companion, a playmate for children, a watchful guard, or just a big, lovable fur-ball to receive slobbery kisses from. Look no further, as PetMD has compiled a list of our top ten favorite large dog breeds to meet your every need.
(page 8 of 10)
3. Golden Retriever

Though named as such for their distinctively gold-coloured silky tresses, Golden Retrievers could have easily earned their name for having a heart of gold.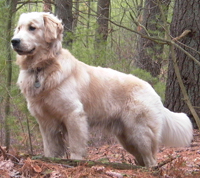 Friendly to both owners and strangers alike, these dogs are renowned for their compatibility with children. Golden Retrievers are primarily indoor pets, but do require a daily dose of exercise running around the yard.
Plus... how could you resist this adorable face?
Next page: See what large breed dog is #2...