The Bigger,
The Better
Leave the pampered Pomeranians to celebrities and socialites--some of us look for a little more in a dog, whether it be for an exercise companion, a playmate for children, a watchful guard, or just a big, lovable fur-ball to receive slobbery kisses from. Look no further, as PetMD has compiled a list of our top ten favorite large dog breeds to meet your every need.
(page 7 of 10)
4. Standard Poodle

It's no wonder the Standard Poodle is often a contributing factor to some cocktails of "designer mutts."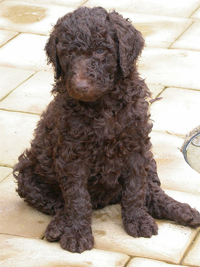 Superiorly intelligent, training this dog is a breeze. It is naturally inclined to being a crowd pleaser--you'll be hard-fetched to find an unsatisfied owner of a Standard Poodle.
Just be prepared to devote oodles of attention and playtime to your pet if you ever choose to become the proud owner of a Poodle.
Next page: See what large breed dog is #3...