The Bigger,
The Better
Leave the pampered Pomeranians to celebrities and socialites--some of us look for a little more in a dog, whether it be for an exercise companion, a playmate for children, a watchful guard, or just a big, lovable fur-ball to receive slobbery kisses from. Look no further, as PetMD has compiled a list of our top ten favorite large dog breeds to meet your every need.
(page 6 of 10)
5. Rottweiler

Despite the negative attention received due to its portrayal as a mean dog in television and film, the Rottweiler remains a highly popular breed.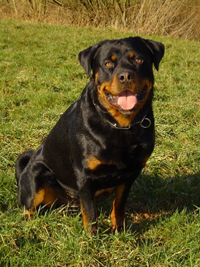 Here's why: Historically a herding dog, the Rottweiler's natural obedience makes it adaptable to several roles; just as capable of being a guard dog than assisting as a service dog. Extremely intelligent and good-natured, the Rottweiler is naturally attentive and very loyal to its family.
Next page: See what large breed dog is #4...