The Bigger,
The Better
Leave the pampered Pomeranians to celebrities and socialites--some of us look for a little more in a dog, whether it be for an exercise companion, a playmate for children, a watchful guard, or just a big, lovable fur-ball to receive slobbery kisses from. Look no further, as PetMD has compiled a list of our top ten favorite large dog breeds to meet your every need.
(page 3 of 10)
8. Mastiff

If you've ever seen a Mastiff, you'll agree that there is one word that can properly size up its appearance: powerful. No kidding, this dog is huge--not as tall as a Great Dane, but probably twice as thick.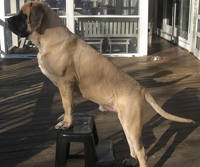 Fittingly, these dogs make excellent guard dogs. Though the Mastiff seems beast-like, it is surprisingly affectionate, gentle, and extremely loyal. Its devotion to its owners and patience with children have secured its popularity for years.
Next page: See what large breed dog is #7...