The Bigger,
The Better
Leave the pampered Pomeranians to celebrities and socialites--some of us look for a little more in a dog, whether it be for an exercise companion, a playmate for children, a watchful guard, or just a big, lovable fur-ball to receive slobbery kisses from. Look no further, as PetMD has compiled a list of our top ten favorite large dog breeds to meet your every need.
(page 2 of 10)
9. Collie

It'd be very difficult not to mention Lassie when talking about Collies, so there. Lassie.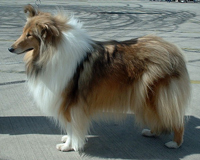 Now that that's out of the way, Collies are a very popular breed of large dog, not only for their obvious ties to classic literature and film, but for their sharp minds and friendly natures. These loyal dogs rarely show signs of aggression, unless their owners are in need of protection. Equally fearless and gentle, the Collie is good with kids and can be the ideal addition to a happy family.
Next page: See what large breed dog is #8...