The Bigger,
The Better
Leave the pampered Pomeranians to celebrities and socialites--some of us look for a little more in a dog, whether it be for an exercise companion, a playmate for children, a watchful guard, or just a big, lovable fur-ball to receive slobbery kisses from. Look no further, as PetMD has compiled a list of our top ten favorite large dog breeds to meet your every need.
(page 10 of 10)
1. Labrador Retriever

What can be said about the Labrador Retriever that hasn't been said? The fact that the Lab has placed number one in the American Kennel Club's registration lists for eighteen consecutive years speaks a lot for itself.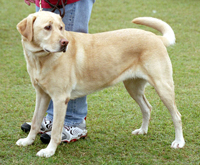 Equally excellent at being a working or companion dog, its intelligence and lovable personality make this breed the most popular dog in the world, regardless of size.
For more pet health information, visit PetMD.com; and don't forget to visit PetMD's new Topic Centers.
More about dog breeds:
Top 10 smartest dogs in the world
How to choose the right size dog for your home
Top 10 dog breeds for kids