10 Dogs For Kids
While Lassie and Lady and the Tramp are fun to watch, they're probably not the best way to choose a dog for your kid. So how do you go about picking a pup from among all the different breeds out there? A good rule of thumb is to choose a breed by its disposition, temperament, size, and energy level--all of which should suit your family's lifestyle. We present 10 dogs that are especially suitable for kids.
(page 7 of 10)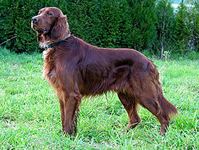 Irish Setter
Known for its red coat, the Irish Setter is playful, energetic, loves being around people, and plays well with children. This doggy needs lots of exercise, and is a good match for energetic kids.
A smart and trainable companion, the Irish setter is perfect for people with lots of space.
Up next: More family-friendly dog breeds >>