10 Dogs For Kids
While Lassie and Lady and the Tramp are fun to watch, they're probably not the best way to choose a dog for your kid. So how do you go about picking a pup from among all the different breeds out there? A good rule of thumb is to choose a breed by its disposition, temperament, size, and energy level--all of which should suit your family's lifestyle. We present 10 dogs that are especially suitable for kids.
(page 6 of 10)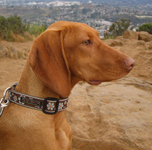 Vizsla
This may be a breed you haven't heard of before, but it's actually one of the best dog breeds for kids. The Vizsla has a gentle disposition and manner, and is loyal, affectionate, and quiet, perfect for your little ones to play with.
Additionally, it is obedient, confident and smart, forming close bonds with its family and able to learn new tricks quickly. Best of all, the Vizsla has very little "doggy" smell about it.
Up next: More family-friendly dog breeds >>