10 Dogs For Kids
While Lassie and Lady and the Tramp are fun to watch, they're probably not the best way to choose a dog for your kid. So how do you go about picking a pup from among all the different breeds out there? A good rule of thumb is to choose a breed by its disposition, temperament, size, and energy level--all of which should suit your family's lifestyle. We present 10 dogs that are especially suitable for kids.
(page 5 of 10)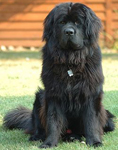 Newfoundland
Nicknamed "Nature's Babysitter," the Newfoundland dog loves children and is very protective of them. Gentle, kind, and patient, this breed is almost like the Mother Teresa of dogs. The Newfoundland best suits a family with large open spaces.
And although it is known to drool and shed excessively, it is not considered a proper dog for the yard. This breed wants to be inside with its family. Wouldn't you? The Newfoundland is also a great swimmer and has been known to save lives in emergency situations. Both young and old will quickly fall in love with this wonderfully sweet, large dog.
Up next: More family-friendly dog breeds >>