10 Dogs For Kids
While Lassie and Lady and the Tramp are fun to watch, they're probably not the best way to choose a dog for your kid. So how do you go about picking a pup from among all the different breeds out there? A good rule of thumb is to choose a breed by its disposition, temperament, size, and energy level--all of which should suit your family's lifestyle. We present 10 dogs that are especially suitable for kids.
(page 4 of 10)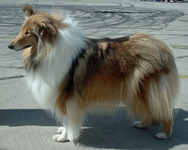 Collie
This is the dog Lassie made famous. Collies are a very gentle and predictable breed, rarely biting its human family and easily trainable, perfect for families that are unfamiliar with dogs.
While this breed is typically mild mannered (like Clark Kent!), it was originally bred as a herding dog, so it may try and herd your children. This might be amusing at first, but it's probably best to discourage the child-herding (no matter how handy you may think it could be). The Collie's long hair means it requires regular grooming to keep its coat in tip-top shape. Collies get along great with children and love to please their owners and protect their family.
Up next: More family-friendly dog breeds >>