Monikers for the modern mouser
If you're in need of a creative way to call your precious new kitten, we've got 100 unique names inspired by history, pop culture and more to get your creative wheels turning.
Naming your cat Snowball, Mittens or Fluffy is so passé! That's why we went on a mission to find 100 names inspired by everything from technology to fashion to make sure your kitty has a name that's as awesome as she is.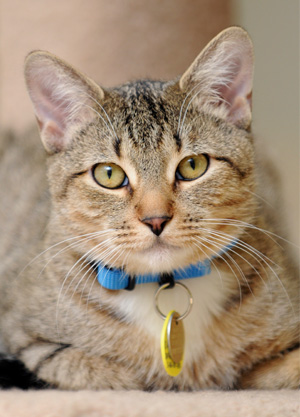 Unique cat names inspired by fashion
Hey, they call it a catwalk for a reason, right? Naming your kitty after one of these fabulous fashionistas may not catapult you to the top of the best-dressed list, but it's a start.
Boys
Armani
Sketchers
Yves
Valentino
Hugo Boss
Girls
Fendi
Bebe
Tallulah
Twiggy
Chanel
Unique cat names inspired by places
If you opted for an exotic breed or just love to travel, one of these inspiring locales can give your sweetie the optimal handle.
Boys
Cupertino
Kathmandu
Machu Picchu
Vegas
Kilimanjaro
Girls
Egypt
Bora Bora
Juneau
Saskatchewan
Fjord
Unique cat names inspired by drinks
If heaven to you is a cocktail in your hand and your kitty on your lap, one of these booze-inspired names will appeal to you.
Boys
Vesper
Muscat
Jager
Hennessy
Schnapps
Girls
SoCo
Azunia
Mai Tai
Sake
Campari
Unique cat names inspired by historical figures
If the History Channel is your go-to boob-tube getaway, you'll find your new kitten's sobriquet in this list.
Boys
Charlemagne
Euripides
Hannibal
Buster Keaton
Amadeus
Girls
Amelia
Godiva
Sacagawea
Guinevere
Frida
Unique cat names inspired by celebrities
Maybe you can't walk the red carpet to get your stargazing in, but if you name your cat after one of these high-profile peeps, you'll feel like they're sitting right next to you (purring).
Boys
Timberlake
Atticus
Hemsworth
Clooney
Snipes
Girls
Adele
Gyllenhaal
Saldana
Zappa
Sienna
Unique cat names inspired by mythology
Part of the charm of a feline companion is the ever-present mysticism in their eyes. Give them a name that hearkens back to their mythological powers.
Boys
Ajax
Pollux
Ra
Castor
Gawain
Girls
Artemis
Nyx or Styx
Brynhildr
Demeter
Branwen
Unique cat names inspired by writers
If literary nostalgia is more your thing, get bookish with one of these names inspired by our favorite authors.
Boys
Vonnegut
Rudyard Kipling
Nietzsche
Hobbes
Lord Byron
Girls
Ayn
Angelou
Huxley
Alcott
Zora
Unique cat names inspired by fictional characters
You know your cat's so special she's too good to be true. Keep the fictional theme going with one of these names inspired by the imagination of popular storytellers.
Boys
Poirot
Gatsby
Legolas
Dexter
Keyser Söze
Girls
Katniss
Princess Peach
Griselda
Coralline
Tuppence
Unique cat names inspired by products
Your cat's name doesn't have to be all about the people. Appropriate something a little more materialistic for an adorable way to call your kitty.
Boys
Tabasco
Snickers
Keurig
Denon
Cadbury
Girls
Dyson
Kindle
Fiskars
Sephora
Skittles
Unique cat names inspired by tech
Nerd up your new addition with a name inspired by the digital frontier.