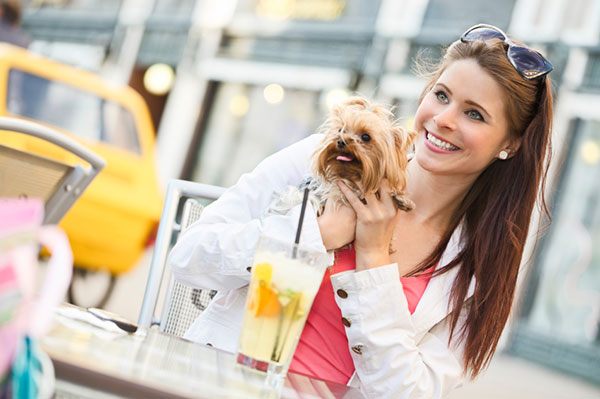 Doggie bag, please!
Have a doggie date with your pooch at one of these pet-friendly restaurants. From the East Coast to the West Coast, we've got you covered when it comes to dining with Fido.
East Coast
The Dog Bar
Charlotte, North Carolina
Located in Charlotte, The Dog Bar is exclusive to dogs and their owners. With no children allowed, this bar means doggie business with a one-time membership fee of $10. A perfect location to hang with man's best friend, The Dog Bar serves up great food and drink specials.
Southwest
Uncle Bear's Grill & Bar
Phoenix, Arizona
Don't let the name fool you — this southwest restaurant is named after a beloved dog. Promising that you'll have a "doggone memorable experience," this location is a hot spot for patio loving paradise. Enjoy yummy eats with your "Bear" as you chomp on yummy burgers and beer.
Southeast
The Dog Bar & Grille
Cape Coral, Florida
Located in the southeast waterfront town of Cape Coral, The Dog Bar & Grille offers a great time for bar hounds and real hounds alike. Providing perfect patio seating for pooches, the bar also has a dog wall of fame where bar hoppers can "mark their territory" with pictures of their own pets. True to their name, this bar promises to let you live "the dog's life" when you come to visit.
Midwest
Joe's Bar
Chicago, Illinois
Located in the third highest populated city of Chicago, Joe's Bar offers a weekly doggie happy hour on Wednesdays. Serving up popular appetizers for the humans and delicious treats for the pups, this bar is loved by dog owners everywhere. Outside of the happy hour, Joe's Bar also hosts an annual "Pug Party" where 300 dogs are invited into the bar with a parade and costumes.
South
Anis Cafe & Bistro
Atlanta, Georgia
With dogs welcomed at the bar and patio, this is a great spot for pet owners who want to enjoy a nice brunch. Sip on espresso at Anis Cafe & Bistro while Fido slurps up water at a picturesque cafe in this Southern state. With tasty French cuisine and live music on the weekends... this is a great place for you and your doggie date to relax.
Northwest
Norm's Eatery & Ale House
Seattle, Washington
Named after a dog, Norm's Eatery & Ale House is located in the hipster city of Seattle. Decked out in dog gear, this laid back location is a great spot for dogs and owners alike. With a weekly special referred to as the "doggie bowl," this bar and restaurant takes K-9 cuisine to a whole new level with great food and alcoholic drinks for pet owners.
West Coast
The Lazy Dog Cafe
Los Angeles, California
The Lazy Dog Cafe in swanky Los Angeles is perfect for a lazy pooch and his owner. With great patio space, owners can sip on an iced tea while your dog sips on water and treats... on the house. Decked out with doggies, this cafe is a cozy spot for dogs and pet parents to go to relax and enjoy a good lunch together.
More on dogs
Why does your dog overeat?
The truth about sleeping with your dog
Best friends: Tips to keep that tail wagging