Contagiously Cool Back to School Stuff!
The smiles and hip factor will be contagious when your kid goes back to school decked out with this awesome setup.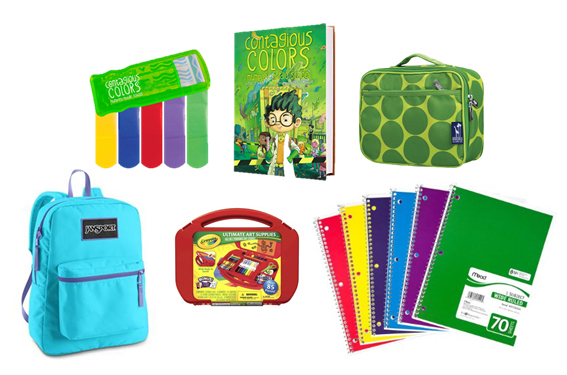 All kids want to stand out at school. Student scientist Wilmer Dooley, star of the new book The Contagious Colors of Mumpley Middle School, knows all about it . With this awesome giveaway you can send your kid (or niece, nephew, friend's kid or other special child in your life) to school looking extra colorful and feeling special!
From toting around school supplies to bringing lunch, taking notes, doodling pictures and fun after-school reading, this complete setup will colorfully cover all of your student's needs during the school day:
The Contagious Colors of Mumpley Middle School book
JanSport backpack
Wildkin lunchbox 
Crayola Ultimate art supplies
Mead spiral notebook
PLUS a $150 Visa for all the rest of your back to school needs
Enter now for a chance to win it all in time for school!
About the Contagious Colors book
If there's one important thing Wilmer Dooley's dad always says, it's this: "Where are my car keys?"
Okay, maybe not that. He also says: "Observe!"
Wilmer has always known that the greatest science comes from the keenest observations. So when he observes his classmates looking a little green…and orange...and chartreuse-fuchsia polka-dotted...he knows that it's up to him to find the cause of this mysterious illness—and the cure.
But with his arch nemesis, Claudius Dill, hot on his heels; the eagle-eyed biology teacher, Mrs. Padgett, determined to thwart his plans; and a host of fluorescent classmates bouncing off the walls at increasingly dangerous speeds, can Wilmer prove he has what it takes to save the sixth grade from a colorful demise before it's too late?