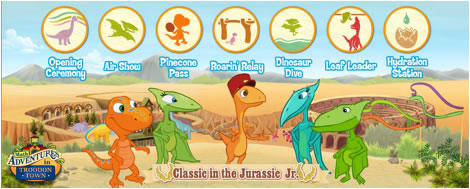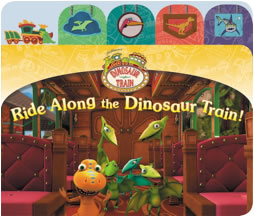 Enter to win one of THREE copies of The NEW novelty book, Ride Along the Dinosaur Train, from Grosset & Dunlap and one of THREE InterAction Don Figures.

Ride Along the Dinosaur Train: Now available everywhere books are sold, this fun, interactive novelty book lets readers ride the Dinosaur Train with Buddy and his family. Using the slide along train at the top of the book, fans can visit all the stops along with the Dinosaur Train!  For readers ages 3 and up; grade level P and up!  

InterAction Don from TOMY: Ages: 3 and up.Interactive Don Pteranodon is more than dinosaur play....it's a truly interactive dinosaur experience for kids! SmartTalk technology gives Don the ability to recognize and interact with other dinosaurs in the line. Press his button, and as he shares tons of fun dino data!

 In addition there is:

On February 18, Buddy and everyone's favorite Dinosaur Train Pteranodon family will dive into an underwater TV adventure in "Submarine Adventure" on PBSKIDS. The one-hour program will feature FOUR NEW stories about sea creatures that lived during the "Age of Dinosaurs." Preschoolers will meet new friends along the way – from Otto Ophthalmosaurus to Archelon turtles – as they learn about natural science, natural history and paleontology. And if you miss it, both full episodes and clips from "Submarine Adventure" will be available on the PBS KIDS Video Player at PBSKIDS.org/video and on the free PBS KIDS Video App beginning February 19!
FREE NEW coloring sheets based on the "Submarine Adventure" special are available for download at PBS KIDS available HERE
A FREE NEW suite of DINOSAUR TRAIN online games, "Classic in the Jurassic Jr.," is available too! In this set of inter-connected games, dinosaurs compete in sporting events. For Kids ages 2 to 5, these games help kids build key math skills, including comparing heights and lengths, using units of measurements, sorting, classification, volume and distance. is now available HERE!
And, as it's Valentine's Day, we have our popular DINOSAUR TRAIN Valentine's Day Cards available to you for FREE HERE
Entries are unlimited!