From Richard Scarry's beloved books
Your children will enjoy the same toys that you did!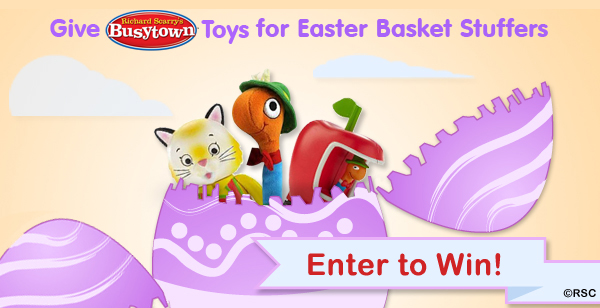 Welcome to Richard Scarry's Busytown!  It's the liveliest, funniest, busiest town around!  Based on Richard Scarry's classic books enjoyed by generations of families, children would love to be surprised by an Easter basket filled with a Richard Scarry's Busytown vehicle pack, figure pack or mini plush.  These vehicle and figure packs are compatible with most wooden railway track play systems.  A comprehensive Richard Scarry's Busytown play system is available, too, so kids can collect them all or build a Busytown all their own!
Enter for your chance to win an Easter Basket filled with Roadway Starter Playset and $50 Toys R Us Gift Card plus a surprise selection of 3 products from Richard Scarry's Busytown!
1 Busytown Small Vehicle Pack
1 Busytown 2-pack Figure Pack
1 Busytown Mini Plush
Enter now for your chance to win!
Entries are unlimited.
PointsandPrizes.com Keyword: BUSYTOWN worth 100 points good through 4/20/12. 
'Like' Richard Scarry's Busytown on Facebook!