Ready. Set. Build.
Win the Dylan Dump Truck, Sonny School Bus, and Lil' Princess 3-Story Enchanted Castle and more!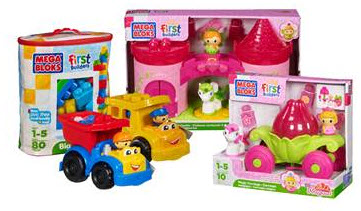 All three of the fun toys from Mega Bloks will keep your kids busy building for hours!  Mega Bloks' First Builders and bound to be their new favorite activity.
DYLAN DUMP TRUCK
Make a friend with Dylan Dump Truck from Mega Bloks! This little truck comes ready to tackle any delivery job with a smile. Whether your child is hauling blocks through the living room or a special gift to Dad in the kitchen, Dylan Dump Truck is the perfect partner for your little driver. Navigate imaginary roads with the easy-to-grab truck bed. Combine with Sonny School Bus for a pair of funny Mega Bloks pals. Put your hardhats on and get to work with your friend Dylan Dump Truck by Mega Bloks.
SONNY SCHOOL BUS
Get your backpack – it's time for school! Sonny School Bus by Mega Bloks and his friendly driver are ready to teach your child all about the ride to school. Laugh and learn as you and your child wheel this bright yellow bus back and forth. Use the included First Builders blocks to build on and around the bus, creating a different and exciting toy every time. With Sonny School Bus by Mega Bloks, you and your little one will have loads of fun!
LIL' PRINCESS 3-STORY ENCHANTED CASTLE
Join Princess Ivy and discover a world of fairy tales in the Mega Bloks Lil' Princess 3-Story Enchanted Castle. Deep in the Secret Forest, your little one can design and build a beautiful palace that is the perfect place for a magical ball! Princess Ivy and her pony Chestnut can twirl and dance the night away on the spinning platform and balcony. The enchantment never ends with the Mega Bloks Lil' Princess 3-Story Enchanted Castle.
Read our review of Mega Bloks' First Builders Toys on Real Moms Guide!
Like Mega Bloks on Facebook!
Enter now for your chance to win!
Entries are unlimited.