Win a Lip Gloss Kit!
EyeDoll Chatter Lets Tweens and Teens Get Creative and Social With Makeup - Win a Hello Kissy Lip Gloss Kit for Valentine's Day!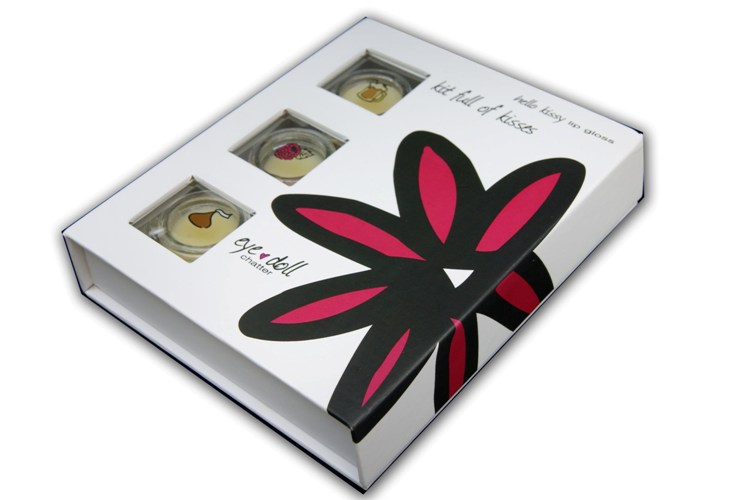 Pick a purple, a pink or a blue.  Choose a shimmer scented with cherry blossom or chocolate or cotton candy.  Put them together in a layer cake of a look that's all your own, and then tell all your besties.  That's the pretty premise of EyeDoll Chatter (www.EyeDollChatter.com), a collection of all-natural, paraben-free mineral makeup kits that let tweens/teens customize eye, cheek and lip colors and share them using a free iPhone app.   
Color with a dollop of chocolate on top?  Yes, please!  EyeDoll Chatter's new "Hello Kissy" Lip Gloss Kit is a veritable candy store of fashion and flavor.  The fun starts with a selection of three botanical based lightly colored glosses.  They can be worn alone, layered, or turned into tasty treats with the three flavored lip balms also included in the set.  Whatever combination you choose, it's your very own.  There's even a free iPhone app that let's you share your creation with friends with Facebook, Twitter or text.
Hello Kissy Lip Gloss Kit includes: 
            - Three organic gloss colors:  Divinely Devilish, Midnight Magic, and Little Beast
            - Three soothing scented lip balms made with skin-safe flavor oils:  Root Beer, Chocolate and Raspberry
            - Lip brush
Enter now for your chance to win the EyeDoll Chatter Valentine's Day Giveaway!
Entries are unlimited. 
Check out more SheKnows Giveaways!