Heartfelt & Hopeful
Enter to win Daughters for a Time!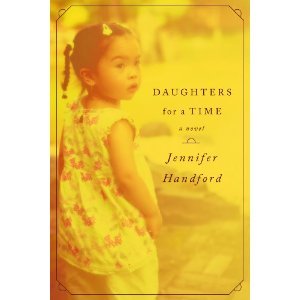 In Daughters for a Time, a Washington, D.C.-based power couple find themselves exploring infertility, the world of adoption and the nature of the bond between parents and children. Main character Helen Francis's childhood was anything but ideal. Her mother died when she was in high school and her father left, leaving her in the care of her adoring older sister, Claire. Now thirty-five and happily married, Helen is eager to start a family of her own, to make her family what she never had. But after four years of unsuccessful attempts and the difficulty of dealing with infertility, she starts to consider adoption. After over a year of interviews and applications, Helen and her husband are overjoyed to pick-up their new daughter in China. Life is finally coming into place for Helen, until she is blindsided with the worst possible news: her beloved sister Claire has cancer. Helen's wounds are again torn open as she balances the joy of a new daughter with the grief of a dying sister. Poignant, penetrating, and full of raw emotional power, it's a heart-wrenching tale of a woman who must face the joys and sorrows of life as she struggles to find her place as a mother, sister, daughter, and wife.
Click here for more information!
Enter now for your chance to win!
Entries are unlimited.
PointsandPrizes.com Keyword: DAUGHTERS worth 100 points good through 6/30/12.