Action and Laughs for Kids
Captain Underpants and the Revolting Revenge of the Radioactive Robo-Boxers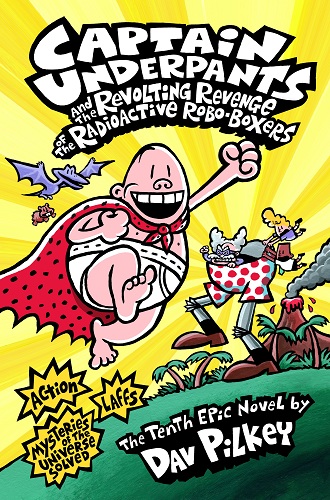 A world without UNDERPANTS?!!!
When we last saw our heroes, George and Harold, they had been turned into evil zombie nerds doomed to roam a devastated, postapocalyptic planet for all eternity. But why, you might ask, didn't the amazing Captain Underpants save the boys from this frightening fate? Because Tippy Tinkletrousers and his time-traveling hijinks prevented George and Harold from creating Captain Underpants in the first place! Now, having changed the course of human history forever, they'll have to figure out a way to CHANGE IT BACK.
Could this be the end for Captain Underpants?!!
For fans ages 7 and up.
One (1) winner will receive:
Copy of the latest book Captain Underpants and the Revolting Revenge of the Radioactive Robo-Boxers
Captain Underpants Boxed Set (Four Books and a Whoopee Cushion)
$50 Visa gift card to stocks your busy reader's bookshelf
Enter the Captain Underpants Giveaway to win a copy of the New Captain Underpants book, box set and $50 gift cards.