Preschool Favorites!
Baby Genius Preschool Collection features core preschool play patterns, plus innovative feature items with iconic musical characters!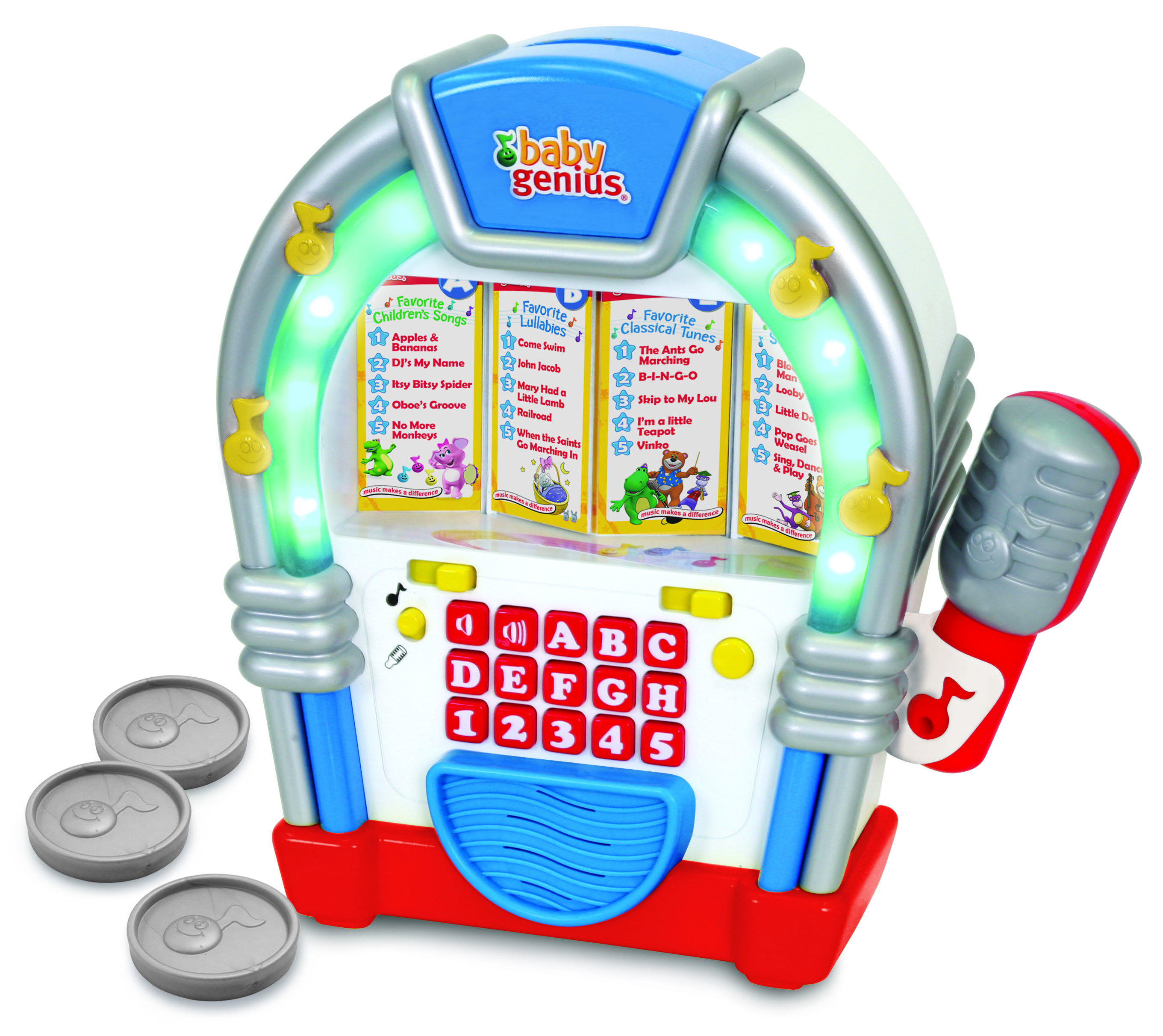 Each toy in the Baby Genius Preschool Collection presents children with inspirational music and role playing opportunities. One lucky winner will receive the below preschool crowd favorites:
Baby Genius Be-A-Star Sing-Along Jukebox
Could this music machine be any cooler? Just like with a real jukebox, kids insert plastic "coins" and use the letter & number buttons to choose one of 40 favorite Baby Genius songs. Feel like performing? Switch over to Karaoke mode! A microphone stored on the side makes singing together super fun. There are 40 karaoke tunes to choose from! LED lights flash along to the beat for a rockin' audio-visual show! 2 modes of play: Jukebox or Karaoke Easy-to-use control panel Volume control 3-coins over-sized coins Free Baby Genius DVD is included. Requires 4 AA 1.5V Batteries (included)
Baby Genius Rap & Tap One-Man Band
Finger-tapping fun and exciting musical exploration for the entire family! Set Tune-a-Saurus on a table and start tapping. You can't see them, but there are 6 note and beat zones around him, and where you tap determines which note or beat you hear. Tune-a-Saurus turns the vibrations from your tapping fingers into sound! 3 modes of play; One Man Band, Rapping Rex, Laugh Attack Hear Rex talk and sing, instruments and silly sounds. A free Baby Genius CD is included. Requires 3 AAA 1.5V Batteries (included)
Baby Genius Musical Pop-Up Pals
Pop goes the fun! A Baby Genius version of the classic Jack-in-the-Box, this wildly fun toy has not just one, but three doors of popping-out fun! Wind the handle to get the music going, and encourage four animal friends to pop out and say hello! Sometimes they'll pop out together, other times they'll appear one at a time, and each combination is accompanied by 3 great Baby Genius songs and silly character phrases. Free Baby Genius CD is included. Requires 2 AA 1.5V Batteries (included)
Enter now for your chance to win the Baby Genius Preschool Collection by Tollytots Giveaway!
Entries are unlimited.