Pregnant Celebrity
Photo Roundup
Happy Wednesday Hump Day — also known to us as Celebrity Baby Bump Day! We have rounded up the cutest pregnant celebrities of the week, including two new additions to the list. Jennifer Love Hewitt announced she is pregnant, as did actress Kate Winslet! Pregnant Kate Middleton showed off her baby bump in a pink dress, while Kim Kardashian wowed in white. Lastly, Jessica Simpson and CaCee Cobb compare baby bumps at CaCee's baby shower.
(page 5 of 5)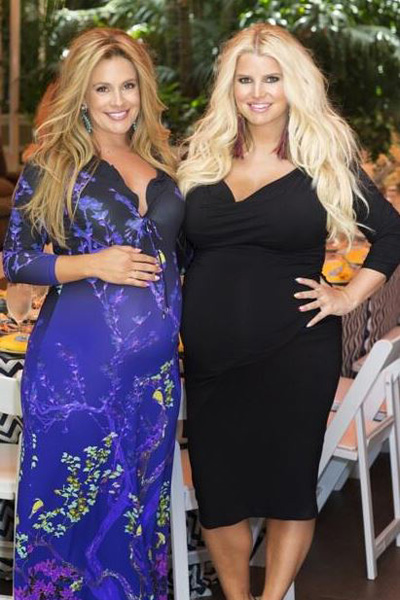 Jessica Simpson and CaCee Cobb
Pregnant CaCee Cobb posted this photo with pregnant Jessica Simpson at her baby shower. "Showered with so much love yesterday," tweeted Cobb. "Thank you, Jessica Simpson. Best friends. Best baby shower ever."
Simpson and Cobb looked gorgeous in bump-hugging dresses as they posed for the camera at Cobb's baby shower at the Four Seasons Beverly Hills.
Cobb, who used to be Simpson's personal assistant, is expecting her first child with former Scrubs star Donald Faison. Simpson is expecting her second child in July with fiance Eric Johnson. Sources recently revealed that Simpson planned on getting married soon after her baby boy is born.
A source told Us Weekly that Jessica said, "Let's have this wedding already before I get pregnant with another one!" 
Photo of CaCee and Jessica courtesy of CaCee Cobb Twitter: All other WENN unless noted otherwise