Pregnant Celebrity
Photo Roundup
Happy Wednesday Hump Day — also known to us as Celebrity Baby Bump Day! We have rounded up the cutest pregnant celebrities of the week, including two new additions to the list. Jennifer Love Hewitt announced she is pregnant, as did actress Kate Winslet! Pregnant Kate Middleton showed off her baby bump in a pink dress, while Kim Kardashian wowed in white. Lastly, Jessica Simpson and CaCee Cobb compare baby bumps at CaCee's baby shower.
(page 4 of 5)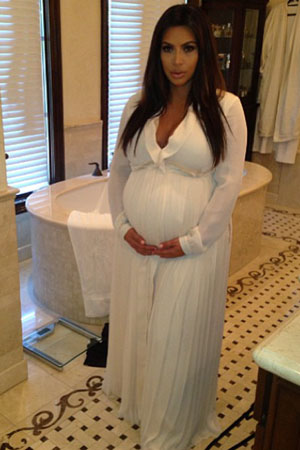 Kim Kardashian
As news broke that Kim Kardashian is (finally!) officially divorced from Kris Humphries, the pregnant reality star posted this picture on Instagram with the caption: "Yesterday's look #Lanvin."
The 32-year-old mom-to-be looked gorgeous in a white flowing gown while showing off her baby bump. Kim K. revealed on her reality show, Keeping Up with the Kardashians, that she and Kanye West are expecting a baby girl!
"I'm so excited to be having a girl. Who doesn't want a girl?" she said. "I know that's really what Kanye has always wanted. He wanted a little girl. What kind of child will I have? A very tutu-y, like, princess?"
On the fashion front, Kim has reluctantly switched her beloved high heels for flats after her feet started to swell. "My doctor has told me to elevate my feet. I just ordered a pair of pointy-toed flats," she said.
Next up: Jessica Simpson and CaCee Cobb compare baby bumps!
Photo credit: Kim Kardashian via Instagram