California's Rugged, Rustic Coastline
Take an adventure to the Pacific Ocean with a visit to Big Sur and its nearby sites. Learn more about the wild beauty of the area in this peek into what the area has to offer travelers!
(page 2 of 2)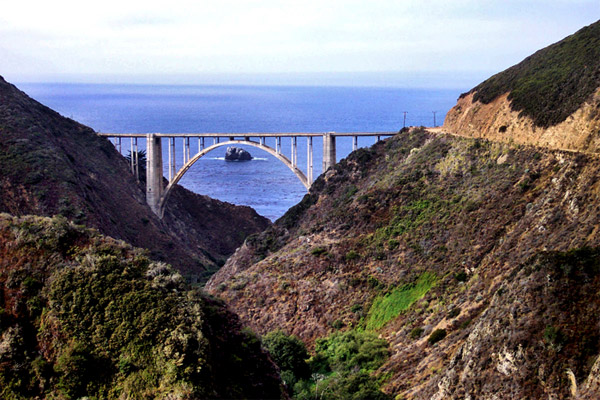 A scenic hike
After a simple breakfast of cereal and fruit in our cottage the next morning, we bought lunch supplies in the store and headed 10 miles south to Julia Pfeiffer Burns State Park, playing leapfrog with a fog bank all the way. Our admission into the park cost us nothing -- it's included in the room rate of the Big Sur Lodge. We parked and started hiking back toward the ocean along a path bordered by wild lilac, chaparral and aromatic sage and thyme. Soon we entered a short tunnel beneath the highway -- and there was the Pacific glittering ahead of us. The fog had silently rolled out to sea, and it stayed there among the freighters and fishing boats for the rest of the day.
The narrow path skirts the cliff edge where lush coastal scrub vies with garden plants, such as calla lilies. Just 20 feet along the trail, we turned to look back at spectacular McWay Falls plunging onto a shallow beach. Out came the camera again. Then we continued along the recently rebuilt trail to the ruins of a private home once called Waterfall House.
"How did it get wrecked?" Hannah asked, poking at the old stairs and foundation stones.
"It was a landslide in 1983," I read from the brochure. "This coastline is always changing, and, really, the highway just isn't supposed to be here. Nature keeps trying to destroy it. Little by little, pieces of California disappear into the ocean."
Hannah watched her footing very carefully on the way back to the car. We then drove two miles north to Partington Cove, a frequent landing place for smugglers as well as for legitimate seafaring businesses. The entrance is unmarked except for a locked iron gate on the ocean side of the highway. The walk down to the cove took about 30 minutes and included a scamper through a 200-foot tunnel carved through sheer rock sometime in the 1880s. Hannah and I both reveled in the pristine stream emptying into the Pacific at the base of the cove, and we spent half an hour exploring the tidepools and catching ocean spray in our faces.
A picnic with a view
Hannah said she'd had enough of rock scrambling and hiking for a while, so we took the driveway to Ventana Inn, one of the first really upscale, fancy inns built in recent years. There's a wide, grassy turnout overlooking the Pacific about halfway up the road, and we spread out a blanket and had a picnic in the sunshine. Graceful, soaring turkey vultures circled overhead, and twice I was pretty sure I spotted a condor, a once severely endangered species that has been successfully reintroduced to the area by local conservation groups. Hannah looked down at the ribbon of highway below us.
"Who built it?"
"Mostly convicts. The idea started with Dr John Roberts, a pioneer doctor who dreamed of a coastal road down his Monterey home so he could get to his patients faster. He became a state legislator and finally got the road built. The hardest part was that huge bridge we crossed yesterday, Bixby Bridge. The old road used to make a 10-mile loop back into the mountains to get across that deep canyon. It'll be a bumpy trip, but shall we go that route on our way home?"
Off the beaten track
She nodded her agreement, so we turned onto the old road near Andrew Molera State Park. And, indeed, it was spectacular, beginning its ascent through evergreen forests and riparian woodlands. We climbed up into the Santa Lucia mountains, composed of complex layers of marble, granite and sandstone interwoven with meadows of wildflowers and indented with streams and heavily wooded valleys. Outrageous views of the coast to the west and Big Sur Valley to the east greeted us at every other turn in the road.
We twisted and turned above canyons, through redwood groves, past still-functioning pioneer ranches, and at last rejoined Highway 1 just above Bixby Bridge. A trip that would have taken 10 to 15 minutes on the highway had occupied an hour of our day. While there were times I doubted the wisdom of my decision to follow this old road, I know I'll do it again -- but maybe I'll bring a four-wheel drive next time.
As I continued driving north toward home, Hannah napped until we hit the stop-and-go traffic at The Crossroads in Carmel, a major intersection for those heading into Carmel or out toward Carmel Valley. She looked around for a few moments before asking, "Do they have colleges here?"
"Sure, why?"
"Well, I've been thinking I might want to come here when it's time for me to go to college."
I guess that means she liked it.
---
More about Big Sur
This article originally appeared on GeoParent in 2001