Virginia's Best Free Family Activities
Summertime fun can add up quickly when you are on a family vacation. Between dining out, hotel stays, and costly activities, you may find yourself sweating your vacation savings. But, before you drain your bank account, check out some of Virginia's best FREE family activities. That's right, put your pocketbook away and relax. This one's on them.
(page 5 of 8)

Hampton University Museum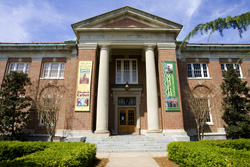 The Hampton University Museum was established in 1868, making it the nation's oldest African-American museum. That same year, Hampton Normal & Agricultural Institute (now Hampton University) was born. The museum features a 9,000 piece collection containing examples of traditional and contemporary African, American-Indian, African-American, and Pacific Island art. Free admission.
Hampton University, 11 Frissell Ave., Hampton, VA 23669, Phone: 757-727-5308
Up next: More free family activities in Virginia >>