Water Safety
Drowning is a leading cause of accidental death for people of all ages, including people who know how to swim. Summertime means more time spent at the pool, lake or ocean. To protect your family from drowning, here are some tips to keep them safe.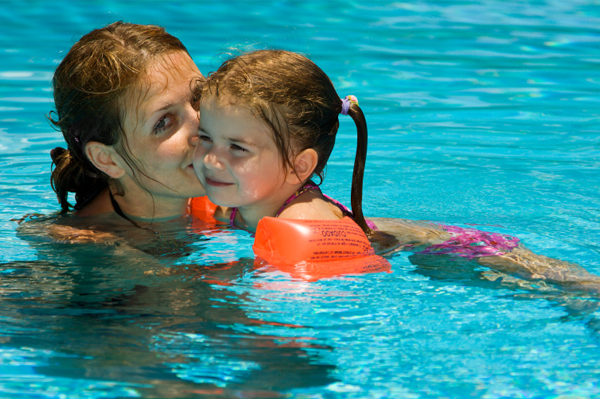 1. Surround your pool or hot tub with a fence and keep it locked so your kids or neighbors' kids can't get in the water without your permission. You may even consider a pool alarm system.
2. Never let your kids swim unsupervised, even if they have had swim lessons, are competent swimmers, or have life vests or floating devices. Never allow young kids to play near or in water unless you are right there with them. They can drown quickly and in only a few inches of water, if they fall face down.
3. Always swim with a buddy, no matter your age or swimming abilities. A buddy can offer assistance if you become too tired to swim or get a cramp that impairs your swimming ability.
4. Swim near the shoreline when in large bodies of water. If you get stuck in a rip current, swim diagonally to the current or float on the current and signal for help.
5. When boating, jet skiing, water skiing or playing in lakes or the ocean, wear life vests and be aware of strong currents that can carry floating devices and rafts away from shore.
6. Don't dive into pools or bodies of water without knowing the depth. Always follow the rules posted on signs nearby.
7. Wear old tennis shoes when swimming at the ocean or lake to avoid getting foot injuries from sharp objects in the dirt or sand.
8. Avoid getting in the water during electrical storms.
9. Listen to your body. If you are feeling tired, too cold or that you have had too much sun, get out of the water.
10. Do not drink alcohol while swimming, whether it be at the pool, lake or ocean. Alchohol impairs your ability to swim and also puts you at risk for stumbling into the water. You may know how to swim but if you hit your head and become unconscious, your swimming abilities won't help you out.