NorCal Fun For The Family
Free family fun abounds in California. From the beach to the boardwalk to the best parks around, here's a guide to the best family activities that are free, to boot!
(page 3 of 4)
SOUTH OF THE BAY AREA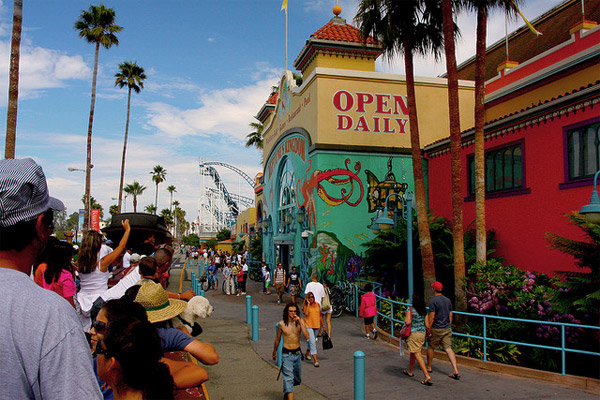 Santa Cruz Beach Boardwalk, Santa Cruz
Fun for the entire family can be found at the edge of the Pacific Ocean: The Santa Cruz Beach Boardwalk. Located half way between San Francisco and Monterey, the Boardwalk has entertained both visitors and locals alike for more than 100 years.
The Boardwalk offers traditional amusement park rides, from the restored carousel for the young (and young at heart) to the Giant Dipper wooden roller coaster, as well as attractions such as MiniGolf, bowling, and an arcade. You can find traditional "boardwalk food" here from corn dogs to saltwater taffy, but if you are just looking to take the family for a stroll, this seaside attraction has plenty to see without spending a dime.
Website: Santa Cruz Beach Boardwalk
Address: 400 Beach St., Santa Cruz, CA 95060
NATURAL BRIDGES STATE BEACH, SANTA CRUZ
This Northern California beach features more than just sand and surf; there is animal life, nature, hiking, walking, and sports for all ages. Admire dramatic sandstone arches, tide pools filled with abundant sea life, a eucalyptus forest, and the California Monarch Butterfly Preserve.
Time your visit during October through March and witness thousands of butterflies hanging in the trees and taking flight. A self-guided tour leads visitors on a 3/4 mile walk from the Monarch Trail to the Secret Lagoon, filled with blue herons, ducks, and a variety of birds that call this state beach home. The beach itself is small -- but with so much to do, you and your family will not want to spend much time relaxing on the sand.
Website: Natural Bridges State Beach
Address: 2531 W. Cliff Dr., Santa Cruz, CA 94060
Dennis the Menace Playground, Monterey
The huge Dennis the Menace Playground in Monterey is a kid's dream come true. Filled with equipment and playthings for kids ages 1 through 10, there are plenty of things for the entire family to do for a full day of play. Various play areas, a pond, grassy places, and shade make it easy to take little ones.
For older kids, a hedge maze, climbing wall, giant swing ride, roller slide, paddle boating, and even a skate park right next to the playground will keep them busy for hours. For kids of all ages, a real steam locomotive invites children to explore and climb aboard the massive train. Unique to this playground is a special play area for the handicapped. But, note that parking can be tough due to this playground's popularity, so get there early and have some fun!
Website: Dennis the Menace Playground
Address: 777 Pearl St., Monterey, CA 93940
Half Moon Bay Tide Pools, Half Moon Bay
Whether you choose to join one of the small groups led by a tour group (for a fee) or roam the lower-tidal zone on your own, the coastal shelf at Half Moon Bay offers a hidden world that only the low tides reveal. The lower-tidal zone at this coastal location is usually hidden under water, but at extremely low minus tides, a world of crabs, anemones, seaweed, sea stars, and more come to life for the world above the sea to discover.
In the spring, the tides are the lowest beginning at 6 a.m.; in the fall, plan to hit the tide pools at around noon. Hiking and delicate reef walking skills come in handy, but are not necessary to witness this underwater wonder world.
Website: Half Moon Bay Tide Pools
Address: 2 Alameda Ave., Half Moon Bay, CA 94019-1361
Santa Cruz Boardwalk photo by the_tahoe_guy