Splish, Splash
As a premier destination for families that want to enjoy the Arizona desert sun, water parks are a permanent fixture in tourist and local activities. Check out these great splash park and pool options.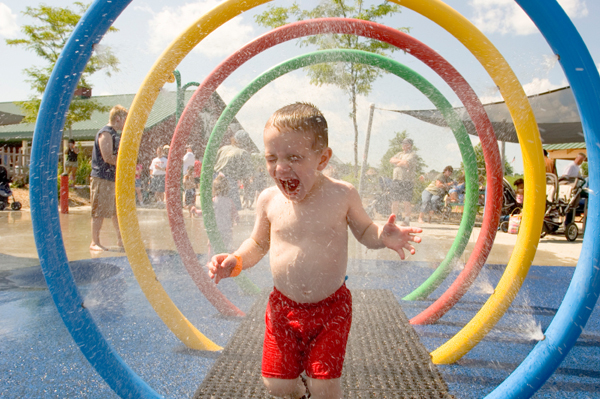 The Oasis Water Park, located at the Arizona Grand Resort, has been voted in the Top 10 by the Travel Channel and features an eight-story high tower with three slides for adventure seekers, a huge wave pool, river tubing, 25-person hot tub, and Wild Cat Springs for toddlers. The Oasis Water Park is closed annually from September through February, but all features are open in the hot summer months. It's a great way to relax and enjoy a family vacation – or staycation!
Site: arizonagrandresort.com
Address: 8000 S. Arizona Grand Parkway, Phoenix, Arizona 85044
Hours: Vary with season
Admission: Free, but entrance is reserved for guests of the resort only
Breakers Water Park is located about 9 miles outside of downtown Tucson and features a huge wave pool that transforms into the Tucson ocean! Children will love the giant waterslides while parents can relax at the restaurant or in shaded areas the snack bar under large mushroom umbrellas.
Site: breakerswaterpark.com
Address: 8555 West Tangerine Road, Marana, AZ 85653
Hours:  Tuesday thru Sunday 10am-6pm
Admission: 12 years and above: $19.95; Children 4-11 years:  $13.95; Ages 3 & under: free; Senior (60+): $9.95; Spectator: $9.95; Twilight (after 3 pm): $11.95
Golfland Sunsplash has been in Mesa, Arizona, for years and is still one the premier family activity places in the valley. In addition to an arcade, laser tag castle, car racing and mini-golf, the water park is exciting and provides much needed refreshment in those hot summer days. Some different names of the aquatic locales include the new Thunder Falls, the Sidewinder thrill slide, Thunder Bay Wave Pool, Splash Water Harbor Slides and Toddler Tadpole Pool. Planning a whole day of activities will definitely leave the kids tired and fulfilled!
Site: golfland.com
Address: 155 W. Hampton Ave, Mesa, AZ 85210
Hours: The park is open 7 days per week, but the water slides are only open 12pm-6pm Saturday and Sunday and again from 7pm to 11pm for Night Splash
Admission: General admission: $25.90; junior admission (under 48" tall): $19.90; toddler: $2.78; senior: $19.90; night splash (7pm-11pm): $14.80
Consistently among Arizona favorites for the best value, the Hamilton Aquatic Center is located at Hamilton High School in Chandler. Visitors can experience 8-Lane Competition Pool, two 1-meter diving boards, two water slides, zero-depth play pool, interactive water play feature, water vortex, current river and a huge ramada area with excellent visibility of the entire area.
Site: www.chandleraz.gov
Address: 3838 S. Arizona Ave, Chandler, AZ 85248
Hours:  Closed during the winter; summer and spring hours vary
Admission: Children (2-17 years): $0.75; adult (18-54 years): $2; senior (55 years & older): $1
Kiwanis Wave Pool offers an indoor heated (84 degrees F) fitness / lap pool with 6 lanes, 127 ft. long and 15 ft. tall double spiral water slide with 3' waves complete with raft and tube rentals. It's a great place to splash around if you want to stay out of the sun!
Site: http://www.tempe.gov/pools/KiwanisWavePool
Address: 6111 South All-America Way, Tempe, AZ 85283
Hours:  Saturday & Sunday 1pm-5pm
Admission: General admission (13+): $6.00; youth (2-12): $3.00; special mid-day rates are available
The Splash Playground is located on the south bank of Tempe Town Lake in Tempe Beach Park and is a definite must-see for parents of younger children. The entrance to the playground is a metal circle of clouds that rains a light mist of water onto visitors, complete with thunder claps and lightning flashes. Waterfalls turn into streams and water rushes into canals. Children can enjoy running through the ocean and riding toy whales.
Site: http://www.tempe.gov/lake/Recreation/SplashPlayground.htm
Address: Loop 202 & Rural Road, Tempe, AZ
Hours: open daily 10am-7pm
Admission: Free
Formerly Waterworld Safari, Wet 'n' Wild Phoenix is spread across a 25-acre facility, and features Maximum Velocity, a dueling water coaster where riders "race" in side-by-side tracks. Other thrill rides include Tornado, a funnel ride, Serpentine Complex, a bowl ride, Mammoth Falls, a half-pipe ride, and Desert Racers, a six-lane mat racing slide. For guests who prefer their thrills slightly toned down, Wet 'n' Wild offers Raging Rivers, a family raft ride and something for toddlers as well as a wave pool.
Site: phoenix.mywetnwild.com
Address: 4243 W. Pinnacle Peak Road Glendale, AZ 85310
Hours: Vary by week and weekend and by season
Admission: General (over 42"): $34.99; junior (under 42"): $27.99; senior: $27.99; children ages 2 and younger: free
---
More fun in Phoenix
Kid-friendly museums in Phoenix
Desert Botanical Garden, Phoenix