Pregnant Celebrity
Photo Roundup
Happy Wednesday Hump Day — also known to us as Celebrity Baby Bump Day! We have rounded up the cutest pregnant celebrities of the week, including Kate Middleton who showed off her growing baby bump in a canary yellow dress. Pregnant Kim Kardashian swapped out her heels for sneakers (gasp!), while pregnant Jenna Dewan-Tatum looked chic in stripes. Pregnant Ali Landry and Fergie round out our list of cute pregnant celebrities of the week.
(page 5 of 5)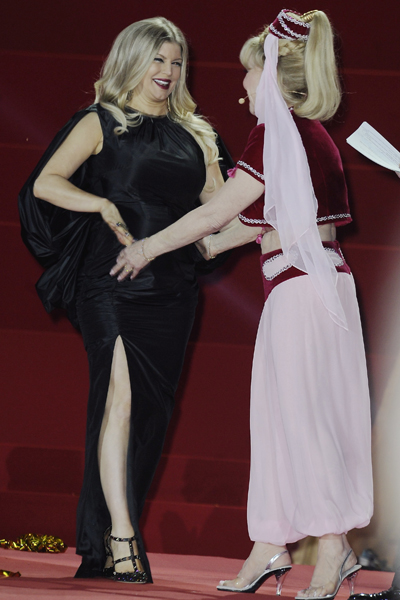 Fergie
Fergie dressed her baby bump in a black Tom Ford dress as she hosted and performed at the 2013 Life Ball in Vienna, Austria on May 25. Barbara Eden joined the pregnant Black Eyed Peas singer onstage and wore her "I Dream of Jeannie" costume, to the delight of her fans!
Fergie and her husband, Josh Duhamel, are expecting their first child together this fall.
"He's been amazing. He's so nice and wonderful and he sings and talks to my belly all the time. He's very complimentary. I'm very lucky that he is really good to me," Fergie told Us Weekly of her hunky husband.
"He's going to be an amazing father. He's just got natural parenting instincts and he wanted to knock me up from our first date! He is ready!"
Photos: WENN unless noted otherwise