Pregnant Celebrity
Photo Roundup
Happy Wednesday Hump Day — also known to us as Celebrity Baby Bump Day! We have rounded up the cutest pregnant celebrities of the week, including Kate Middleton who showed off her growing baby bump in a canary yellow dress. Pregnant Kim Kardashian swapped out her heels for sneakers (gasp!), while pregnant Jenna Dewan-Tatum looked chic in stripes. Pregnant Ali Landry and Fergie round out our list of cute pregnant celebrities of the week.
(page 2 of 5)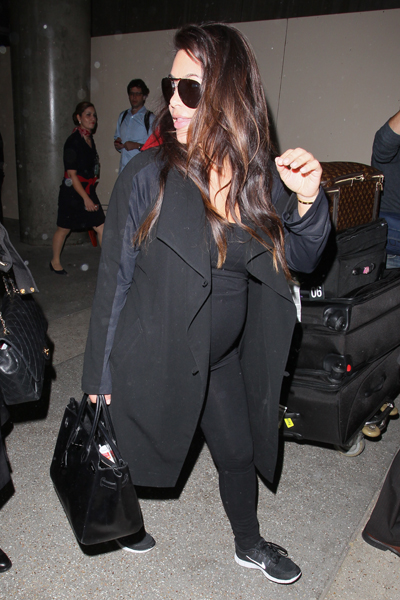 Kim Kardashian
Pregnant Kim Kardashian ditches her sky high stilettos for black Nike sneakers, black leggings and a black cape as she arrived at the Los Angeles airport on May 23 to fly to Paris.
Kim K. is around seven months pregnant and due in July with her first baby with Kanye West. The jet-setting reality star revealed on her website that this will be her last trip for a bit.
"My final trip before I can't fly anymore! My mom and I flew to Paris to soak in the amazingness Paris has to offer before I can't travel anymore! We were doing some baby shopping and checking on our place here before heading to LA for a while," she wrote.
In the meantime, Hollywood Life is reporting that Kim is getting ready to sign a deal with Weight Watchers to shed the weight after the baby is born. Jessica Simpson signed a deal with Weight Watchers after Maxwell was born for a reported $4 million! No word yet how much Kim's contract is worth.
Next up: Pregnant Ali Landry stocking up on post-baby items