Pregnant Celebrity
Photo Roundup
Happy Wednesday Hump Day — also known to us as Celebrity Baby Bump Day! Pregnant Halle Berry showed off her famous figure in a sexy maxi dress, while Kate Middleton showed off her growing baby bump in a pretty peach dress. Pregnant celebs Evan Rachel Wood, Kim Kardashian and Courtney Mazza Lopez round out our list of cutest pregnant celebrities of the week.
(page 4 of 5)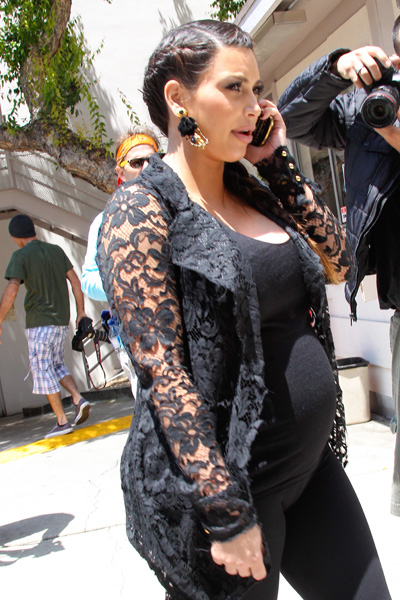 Kim Kardashian
Pregnant Kim Kardashian looked cute in a black top paired with black pants and lace cardigan with her hair in a side braid as she and her boyfriend Kanye West went house-hunting in Los Angeles.
Kim, who is also seven months pregnant along with Kate Middleton, is looking for a house to rent before the baby comes in July. She and Kanye bought a $9 million Bel Air mansion but it is being remodeled and won't be ready in time for the baby.
Kim K. recently told E! that she is finally figuring out how to dress her baby bump. "I think I was trying to hide it for a while, but I'm still at the stage where nothing looks good, so I've found it really difficult to get dressed," she revealed. "I'm learning that stretchy is everything. Blazers and stretchy fabrics are going to be my new thing. Right now, there's not much that will fit."
Does Kim feel a connection to Kate, who shares a due date with the reality star? "I just try not to pay attention to the comparisons. I just hope that anyone who is having a baby has a healthy pregnancy and enjoys it."
Next up: Mario Lopez's pregnant wife, Courtney, looks fab in a Target maternity dress