Pregnant Celebrity
Photo Roundup
Happy Wednesday Hump Day — also known to us as Celebrity Baby Bump Day! Pregnant Halle Berry showed off her famous figure in a sexy maxi dress, while Kate Middleton showed off her growing baby bump in a pretty peach dress. Pregnant celebs Evan Rachel Wood, Kim Kardashian and Courtney Mazza Lopez round out our list of cutest pregnant celebrities of the week.
(page 3 of 5)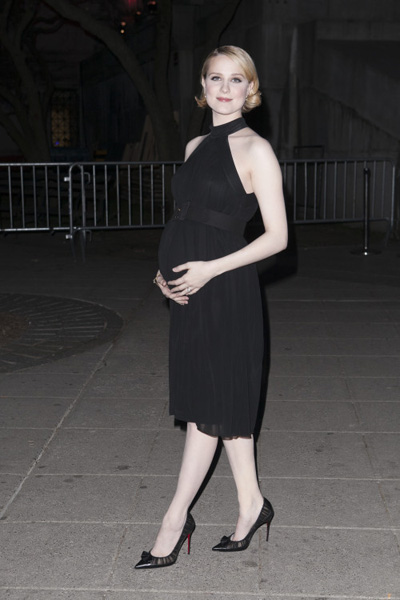 Evan Rachel Wood
Actress Evan Rachel Wood showed off her baby bump in a black dress and heels at the Vanity Fair's Tribeca Film Festival in New York. The 25-year-old actress is expecting her first child with Jamie Bell.
"I was excited once I popped because it's really something you can hold and be proud of and I've just kind of embraced all the mini changes that happen so I'm enjoying it," she told Huffington Post.
Wood, who was once engaged to Marilyn Manson, revealed she has been craving "pickled onions," and is busy designing the nursery.
"I am designing the nursery right now. It's going to have kind of like a bohemian, Indian kind of theme to it," she told Huffington Post. "I figured I'm probably going to have to spend a lot of time in here — [the baby's] not going to know what's going on — so [I] might as well."
Next up: Pregnant Kim Kardashian is getting the hang of maternity style