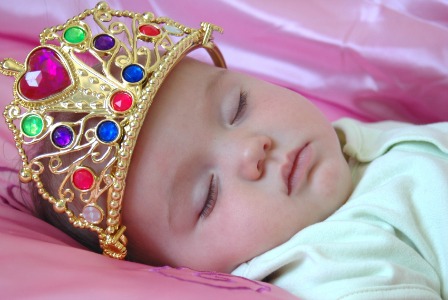 Are you a Game of Thrones fan? If you are, you've probably noticed that the show is chock-full of really unique names that have a melodic sound to them. Expand your fandom by bestowing your favorite character's name on your baby.
Medieval fantasy
baby names
HBO's Emmy-winning series Game of Thrones is in its third season and has a massive fan base worldwide. Based on the fantasy novel series A Song of Ice and Fire written by American author George R. R. Martin, the show features complex story lines, in-depth characterization and compelling themes that run from inner corruption, religion, the allure of power, allegiance and deceit.
It is one of the most pirated series owing to the length of time between broadcast and its general availability to purchase.
Cast of characters
The characters in the TV show have really beautiful and often unique names — many names that you probably haven't heard before, but are still gentle and melodic to the ear. We've gathered the best names — the main characters and the supporting cast — that make up the world of Game of Thrones. We've also included a brief bit of info about them, but we've tried to not spring any spoilers on those who haven't had the chance to watch all of the episodes.
Game of Thrones names for girls
Arya: Third child of Eddard and Catelyn Stark
Brienne: A member of Renly Baratheon's Kingsguard
Catelyn: Lady of Winterfell, wife of Lord Eddard Stark
Cersei: Queen of the Seven Kingdoms of Westeros
Daenerys: Exiled princess of the Targaryen dynasty, also known as "the Stormborn"
Gilly: A young Wilding girl north of the Wall
Lysa: Mistress of the Eyrie and sister of Catelyn Stark
Margaery: She is the only daughter of Lord Mace Tyrell
Melisandre: A priestess in service to Stannis Baratheon
Myrcella: A princess, she is the younger sister of Joffery
Osha: A Wilding woman held captive at Winterfell
Sansa: Second child of Eddard and Catelyn Stark
Selyse: Wife of Stannis Baratheon
Shae: Handmaiden to Sansa and love interest of Tyrion
Shireen: Daughter of Selyse and Stannis
Talisa: A healer on the battlefield
Yara: Daughter of Balon Greyjoy and sister of Theon
Ygritte: A Wilding with red hair
Game of Thrones names for boys
Benjen: Younger brother of Eddard Stark and a member of the Night's Watch
Bran: The fourth child of Eddard and Catelyn Stark
Bronn: A swordsman retained by Tyrion Lannister
Davos: A former smuggler and knight in the service of Stannis Baratheon
Drogo: Warlord of the Dothraki people
Eddard: Eddard, also known as Ned, is the Lord of Winterfell and Warden of the North
Gendry: An apprentice blacksmith
Gregor: Older brother of Sandor
Grenn: A member of the Night's Watch
Jaime: Twin brother of the queen and known as "Kingslayer"
Jeor: The Lord Commander of the Night's Watch
Joffrey: Son of Cersei Lannister, he is the Crown Prince of the Seven Kingdoms
Jon: Bastard son of Eddard Stark
Jorah: An exiled knight in the service of Daenerys Targaryen
Petyr: Also known as "Littlefinger," is the Master of Coin on the king's Small Council
Renly: Youngest brother of Robert Baratheon
Rickon: Youngest child of Eddard and Catelyn Stark
Robb: Eldest son of Eddard and Catelyn Stark
Robert: King of the Seven Kingdoms
Samwell: A member of the Night's Watch
Sandor: Also known as "The Hound," he is Joffrey's personal bodyguard
Stannis: He is the eldest of Robert Baratheon's younger brothers
Theon: The youngest son of Lord Balon Greyjoy of the Iron Islands
Tommen: Younger brother of Joffery
Tyrion: Dwarf brother of Cersei and Jaime Lannister
Tywin: Lord of Casterly Rock, he is the father of Cersei, Jaime, and Tyrion
Varys: A royal spymaster also known as "The Spider"
Viserys: Exiled prince and heir of the Targaryen dynasty
More awesome baby names
Animal-themed baby names
Punk rock baby names
Super cool adventurous baby names