Names To Celebrate
The United States
Whether your baby is due in July or you're a history buff, look toward patriotic baby names for inspiration. When you choose to name your baby after a famous historical figure or a meaningful patriotic symbol, you're giving that child a beautiful legacy. We've picked 50 of the finest patriotic baby names for little boys and girls.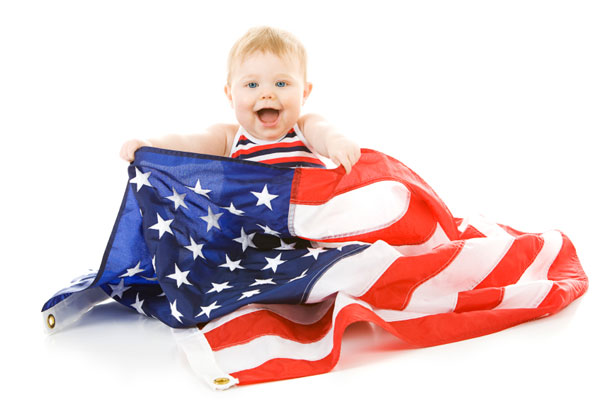 Looking for special baby name inspiration? Turn to the pages of American history. The men and women who shaped the future of the United States have beautiful names that are perfect for modern babies. The men's names make for highly traditional baby boy names while many of the women's names are classic but now very unique. Try one of these 50 inspiring patriotic baby names on for size.
Baby boy names from the American Revolution
During the American Revolution, rebellious men became the founding fathers of the United States of America. From Alexander to William, these are names that have remained popular for centuries.
Baby girl names from American History
From famous abolitionists to the women who helped shape the earliest forms of feminism in the United States, these are true American heroes. These unique baby girl names have classic roots but have fallen in and out of popularity over the decades, making them excellent independent baby name choices.
Baby boy names from famous World War II figures
During the second world war, these men of various ranks proved themselves to be heroes in the United States Armed Forces. Draw baby boy name inspiration from one of these unique baby boy names inspired by WWII soldiers. These are now uncommon names, making them perfect for parents seeking unique baby names.
Baby girl names from influential suffragists
American suffragists fought to give women the right to vote. It wasn't an easy process or a pretty process. These women offer baby girls strong, beautiful namesakes with a rich history of independence and feminism. These baby girl names are unique without being overly unusual.
10 more patriotic boy names and patriotic girl names
For the final ten patriotic baby names, we've chosen a mixed bag of boy names and girl names. These are patriotic baby names that are perfect for summer babies and parents who want to call to mind our great nation and what it stands for.
More baby names
Punk rock baby names
Strong girl baby names
Baby names for scientists