Pregnant Celebrity
Photo Round-Up
Happy Wednesday Hump Day — also known to us as Celebrity Baby Bump Day! We have rounded up the cutest pregnant celebrities of the week, including Ali Landry, who was photographed getting her baby bump blessed by Pope Francis! Pregnant Kim Kardashian wore a controversial floral dress to the Met Gala, while newly pregnant Jaime King also got glammed up for the Met Gala. Lastly, pregnant Halle Berry and Jessica Simpson kept their maternity look cool and casual while traveling.
(page 2 of 5)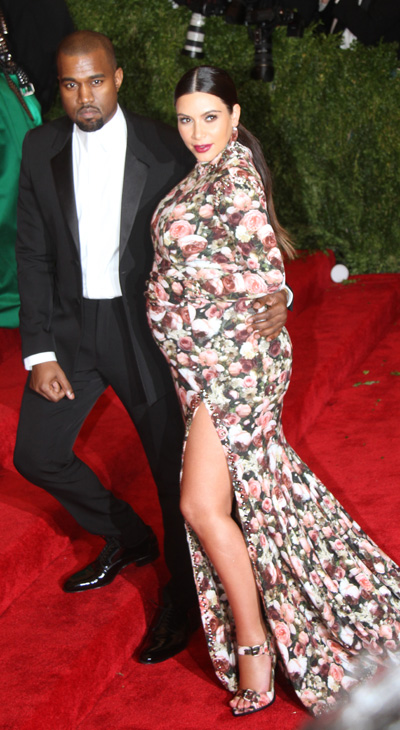 Kim Kardashian
Everything seems to be coming up roses for pregnant Kim Kardashian, who dressed her baby bump in head-to-toe (including floral gloves and floral heels!) in Riccardo Tisci for Givenchy gown to the Met Gala. Posing with her boyfriend Kanye West, the theme of the night was "Punk: Chaos to Couture."
"I think Riccardo's version of punk for me is not probably, you know, the mohawk, typical punk that you would normally envision. A little bit more romantic punk," Kardashian told Vogue.com.
Due in July with her first child, the mom-to-be said she never had a punk phase, but was really excited "to see everyone's take on punk" at the event.
Meanwhile, Kim's ex-boyfriend Reggie Bush and his girlfriend Lilit Avagyan (who looks just like Kim K!) just gave birth to a baby girl.
Kim and Kanye are also expecting a baby girl this summer.
Next up: Newly pregnant Jaime King goes punk at the Met Gala