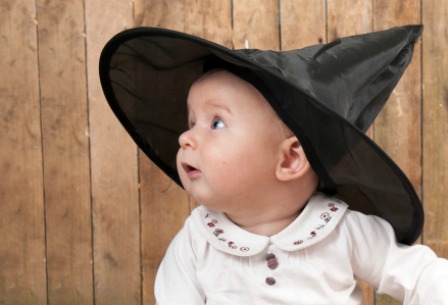 Literature and legend are full of stories of those who have the power of magic. If you're a little on the geeky side, or interested in magic and sorcery, these witch, wizard and warlock baby names may be just up your alley.
The power of magic
Witches and warlocks, wizards and sorcerers — tales of these magical beings go back centuries and fill the myths and legends of ancient civilizations as well as the pages of our favorite books, the screens of our video games and beloved films.
Characters from these stories can choose to use magic for good or evil, but one thing is for sure — they have a lot of power, and that power can be used many ways. From Arthurian legend to Greek mythology to Disney movies to Tolkien to the Legend of Zelda, we've found quite a few names that would make a really unique and interesting baby name.
Witch names for girls
These witchy names have beauty or historical legend behind them — sometimes both. Evanora would be a beautiful first name, or what about Medea for a quirky middle name? These girl names are so fun you may not be able to choose just one.
Bavmorda: Antagonist of Willow
Circe: Greek lore
Evanora: Wicked Witch of the East
Glinda: Good Witch of the South
Jadis: White Witch from The Chronicles of Narnia
Kotake and Koume: Ganon's surrogate mothers, from Legend of Zelda
Locasta: Good Witch of the North
Maleficent: Witch from Sleeping Beauty
Mary: Mary Poppins
Medea: Greek lore
Morgan: Arthurian lore
Rita: Mighty Morphin' Power Rangers
Theodora: Wicked Witch of the West
Tia: From Pirates of the Caribbean
Wizard or warlock names for boys
These magical boy names carry a lot of weight behind them. Merlin is one of the most recognizable names here, but some other familiar names take on new meaning in a magical world, such as Oscar or Blaise. Other names are truly unique.
Alatar: Tolkienian name — one of the two blue wizards
Atlantes: Sorcerer from "The Matter of France"
Bloise, Blaise or Blaze: Merlin's master, Arthurian lore
Gandalf: Tolkienian name — the gray wizard
Ganon or Ganondorf: Warlock; and antagonist of most Legend of Zelda iterations
Gwydion: Welsh mythology
Merlin: Arthurian lore
Ommin: A Sith Sorcerer, Tales of the Jedi
Oscar: Wizard of Oz
Pallando: Tolkienian name — one of the two blue wizards
Prospero: Shakespearean name
Puck: Shakespearean name
Radagast: Tolkienian name — the brown wizard
Rincewind: Discworld, technically a "wizzard"
Saruman: Tolkienian name — the white wizard
Which name you choose is up to you, but you can't go wrong when you choose a magical baby name.
More baby names
Super cool adventurous baby names
Exotic Caribbean baby names
Western names for your baby boy