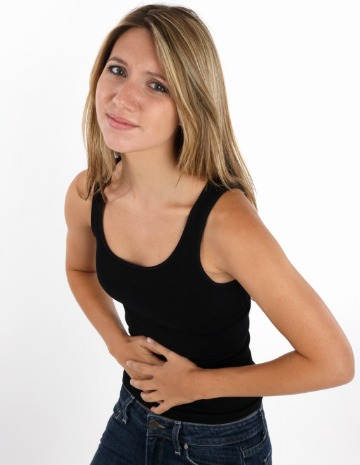 Why can't I just be regular, Mom?
Wanting to be a "regular girl" takes on an entirely different meaning for teens plagued by digestive issues such as constipation, diarrhea, bloating and abdominal pain.
Why do so many teenage girls have tummy troubles, and what can they do about them?
The embarrassing symptoms of tummy troubles
"Being a teen is difficult enough without having to worry about embarrassing digestive issues," says naturopathic doctor and author Cammi Balleck Ph.D. Many teen girls have to deal with:
gas
bloating
constipation
bowel color changes
irritable bowels
itching anus
And there are other symptoms that can be attributed to tummy troubles:
But keep in mind, "It is important to know the cause and not just treat symptoms," cautions Dr. Balleck.
The many causes of tummy troubles
Digestive symptoms can stem from a wide variety of causes, according to Philadelphia health coach and personal trainer Brandon Mentore.
Food intolerances – "You can develop a food intolerance and not even know," says Mentore. "Eating a food that sets off an inflammatory response can cause distress to the intestines."
Food allergies – "Food allergies — dairy, nuts, corn, soy — can cause gastric distress," says Mentore. "Food allergies set off an immune response and the body reacts by trying to rid itself, just as it might when you have a 'food bug.'"
Menstrual cycle – "Estrogen increases organ and joint laxity," explains Mentore. "The smooth muscle of the intestines may relax with your menstrual cycle and result in diarrhea." Likewise, the intestinal distress caused by menstrual cramps can cause diarrhea as well.
Medications – "Prescription medications such as birth control and anxiety meds can cause gastric distress," says Mentore. "Inability to detoxify and process these drugs can overload the liver and create inflammation, diarrhea and constipation."
Stress – Teenage girls are under tremendous amounts of pressure and stress, which may cause cortisol levels to be chronically high. "Cortisol and stress reduce the amount of digestive juices you produce, which can result in malabsorption and cause constipation," Mentore says. "Not digesting and absorbing food due to lack of digestive enzymes can cause irritable bowel syndrome, diarrhea and more."
Skewed body image – For teens, body image is too often dictated by society. "This can result in faulty eating habits, such as restrictions and binging," warns Mentore. "This can lead to eating disorders or disordered eating, which can cause colon stress and constipation.
Embarrassment – Many teenage girls have concerns about using the bathroom around others or in public spaces. "The desire to hold it for fear of what others may think can sometimes be stronger than the need to go," explains Mentore. "This type of behavior can result in constipation, diarrhea, stress to the bladder and an unhealthy environment in the colon."
Poor eating habits – Overall intestinal health is contingent upon healthy bacteria, and the diets and schedules of busy teens can prevent their body from naturally recharging and regenerating. "Intestinal bacteria health is particularly important to teenage girls, who need to be aware of their intestinal flora to avoid yeast and urinary tract infections," says Mentore. "Poor diet and lack of sleep may cause an unhealthy intestinal flora to emerge, which can cause chronic diarrhea, hemorrhoids and constipation."
How to feel better
"Digestive problems do not have to be a lifelong sentence," says Dr. Sheeba Ben, a pediatrician at Riverside Pediatric Group in New Jersey. Dr. Ben recommends:
Eating a diet rich in fresh vegetables, fruits, proteins and complex carbohydrates
Cutting back on caffeine, sugary drinks and fast foods
Avoiding alcohol, drugs and cigarette smoking
Staying physically active
Reducing stress by learning good coping skills
"Probiotic supplements, such as Culturelle, can be helpful in alleviating symptoms of irritable bowel syndrome, lactose intolerance and constipation," adds Dr. Ben.
Schedule a check-up
Consult your family doctor or primary care provider to go over your teen's digestive issues. "The initial evaluation includes a full history and physical exam as well as labs and imaging studies, if deemed appropriate," explains Dr. Ben.
"This can rule out pathological causes of digestive issues, such as inflammatory bowel disease (Crohn's disease, ulcerative colitis), celiac disease, peptic ulcer disease and anatomical causes of abdominal pain, as well as possible gynecological causes."
Your teen may be referred to a specialist if symptoms such as involuntary weight loss, excessive vomiting, unexplained fever, gastrointestinal bleeding and other severe symptoms are present.
More on keeping your teen healthy
Understanding your teen's nutritional needs
Eating disorders on campus: Why you should talk to your teen
Why eating disorders are so trendy