Pregnant Celebrity
Photo Round-Up
Happy Wednesday Hump Day — also known to us as Celebrity Baby Bump Day! We have rounded up the cutest pregnant celebrities of the week, including Kate Middleton, who looked gorgeous in a floral Erdem dress. Kim Kardashian (who is also 6 months pregnant like Kate!) dressed her bump in white jeans, while pregnant Evan Rachel Wood looked gorgeous at the Tribeca Film Festival. Pregnant Jenna Dewan-Tatum rounds out our list of cute celeb moms-to-be!
(page 5 of 5)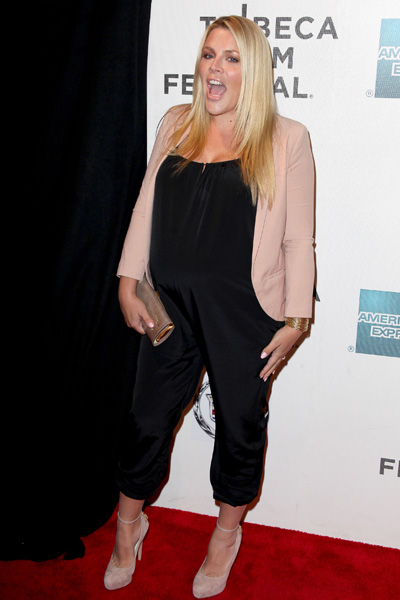 Busy Philipps
Cougar Town actress Busy Philipps shows off her baby bump in a chic jumpsuit from Hatch at the premiere of A Case of You at the Tribeca Film Festival. There must be something in the water, because her co-star Evan Rachel Wood as well as the director Kat Coiro were also spotted showing off their baby bumps at the premiere!
This is the second child for Philipps, who has a 4-year-old daughter named Birdie. We can't wait to hear what she will name baby number two, who will also be a baby girl!
"My daughter is super excited. She's actually incredibly helpful and she's four and a half, so she's really understanding things, when I say like, 'Mom can't carry you right now because the baby in her tummy is pressing down on her bladder!' She understands what that means and she's cool with it. So I think for right now it's OK, but we'll see what happens when the actual baby comes," she told the Huffington Post.
She did admit that this pregnancy has been more of a challenge. "My first pregnancy was sort of easy and carefree and I thought that this one was going to be the same thing, but it has been just worlds apart," she said. "But I'm making it through... I lost my voice because I have acid reflux, I mean it's disgusting! Your body is just hijacked, it's gross."
Photo credit: WENN unless noted otherwise