Pregnant Celebrity
Photo Round-Up
Happy Wednesday Hump Day — also known to us as Celebrity Baby Bump Day! We have rounded up the cutest pregnant celebrities of the week, including Kate Middleton, who looked gorgeous in a floral Erdem dress. Kim Kardashian (who is also 6 months pregnant like Kate!) dressed her bump in white jeans, while pregnant Evan Rachel Wood looked gorgeous at the Tribeca Film Festival. Pregnant Jenna Dewan-Tatum rounds out our list of cute celeb moms-to-be!
(page 4 of 5)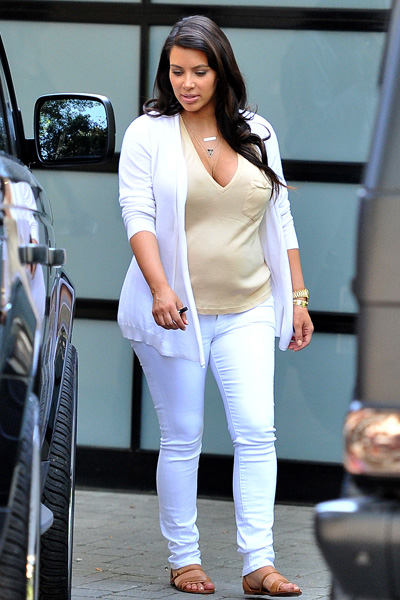 Kim Kardashian
Pregnant Kim Kardashian left her high heels at home as she was spotted having lunch in Beverly Hills after house hunting with a friend. Kim is 6 months pregnant and due in July with her first baby with Kanye West.
The 32-year-old reality star paired white jeans with a tan shirt, a white cardigan and flats. Kim has rarely been seen throughout her pregnancy not wearing heels, saying she prefers her stilettos over flats.
"I still want to be chic, wearing heels," she told E! Online. "People are like, 'You should start wearing flats.' And I'm like, OK, I just went and bought flats for the first time this week and I can't wear them. They're not me. Heels make me feel so good."
Unlike Kate Middleton (who is also due in July), Kim said she has started wearing maternity clothes. "Pea in the Pod is like my new favorite place," she said. "It's like a department store just for pregnant women. I am so inspired."
Next up: Pregnant Busy Philipps rocks a jumpsuit