Pregnant Celebrity
Photo Round-Up
Happy Wednesday Hump Day — also known to us as Celebrity Baby Bump Day! We have rounded up the cutest pregnant celebrities of the week, including Kate Middleton, who looked gorgeous in a floral Erdem dress. Kim Kardashian (who is also 6 months pregnant like Kate!) dressed her bump in white jeans, while pregnant Evan Rachel Wood looked gorgeous at the Tribeca Film Festival. Pregnant Jenna Dewan-Tatum rounds out our list of cute celeb moms-to-be!
(page 2 of 5)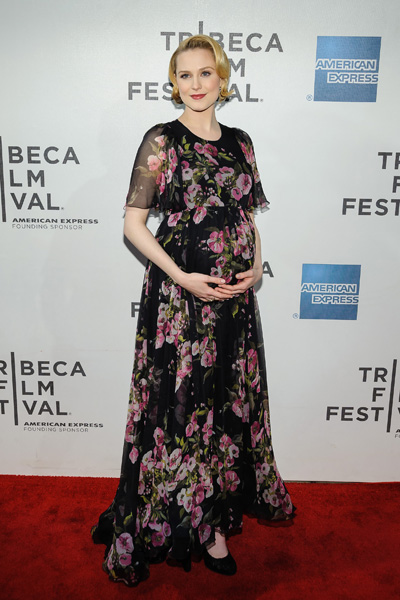 Evan Rachel Wood
Actress Evan Rachel Wood showed off her baby bump in a floral Dolce & Gabbana dress at the premiere of A Case of You at the Tribeca Film Festival in New York City on April 21.
Wood is expecting her first child with her husband Jamie Bell. "I've been through the gamut of like fear and excitement, but now I'm very calm and very ready. I feel really good," she told reporters at the festival.
The 25-year-old actress, who was engaged to Marilyn Manson in the past, said she already knows the sex of her baby (but isn't sharing it) and is designing an Indian-themed nursery.
"It's been a whirlwind roller coaster, it's been amazing. [But] it's not easy," she confessed.
Next up: Pregnant Jenna Dewan-Tatum is getting close!