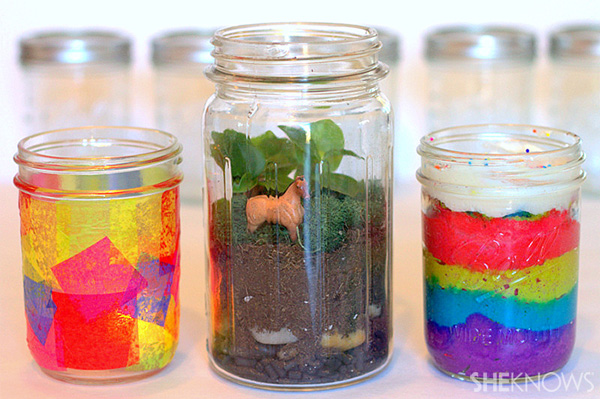 Not your momma's jars
Mason jars are the quintessential DIY crafting supply. They are extremely versatile, which has made them very popular in home decor. These three craft projects all revolve around mason jars and are perfect for kids to create — with a little adult help. Make a cake, create a beautiful candle holder or grow a miniature garden oasis — all in simple, affordable mason jars.
Jar cakes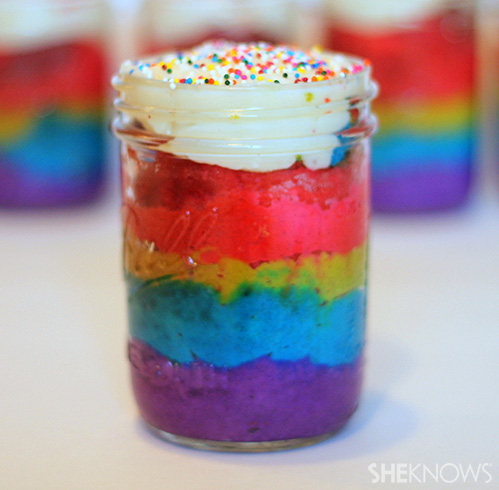 Supplies needed:
Ingredients to make your favorite light-colored cake batter
Bright liquid food coloring
6 pint-sized canning jars
4 gallon-size zip-top bags
9 x 12-inch baking dish
Prepared frosting
Instructions:
Step 1: Prepare the cake batter
Use your favorite recipe to mix up a cake batter. Divide the batter evenly into four small bowls. Use food coloring to color each of the bowls a different color. You will need to use a lot of coloring to achieve vibrant colors, so don't skimp. Take care to mix the batter and food coloring thoroughly to achieve evenly-colored batter.
Step 2: Layer the batter in the jar
Transfer each of the colored batters into gallon-sized zip-top bags, press out any trapped air and seal. Snip off a triangular piece off the bottom corner of each bag. Use these as piping bags and pipe approximately 1/6 of each bag into the jars, one layer at a time. After you pipe each layer in, use a butter knife to even out, flatten and pack the batter, cleaning your knife after each layer so the colors don't mix. Your jars should be about half full. You may need to use more jars, depending on the volume and density of your cake batter.
Step 3: Bake the jars
Place your jar-cakes in a 9 x 12-inch glass baking dish. Then add 1 inch of water to the dish so the jars are sitting in water. Carefully place the jars in a preheated 350 degree F oven for approximately 35 to 40 minutes, depending on the density of your cake mix. Use a long wooden skewer to check if the cakes are done — insert into the very bottom. If skewer comes out clean, your cake is done.
Step 4: Frost
Let the cakes cool completely before frosting. If any of your cakes rise over the top of the jars or spill over, simply cut away the excess cake, and frost.
Stained glass candle holder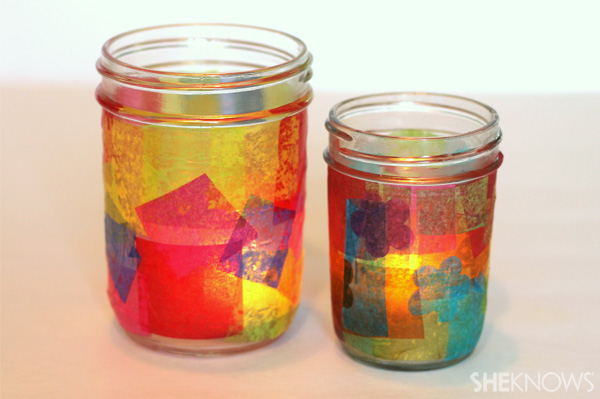 Supplies needed:
Tissue paper
School glue
Mason jar — any size
Tea light candle
Foam craft brush
Instructions:
Step 1: Prepare tissue paper
Cut several different colors of tissue paper into squares. You will need approximately 15 squares to cover a jar.
You can also use paper punches to create shapes, as shown on the smaller jar.
Step 2: Coat jar in glue
Using the foam brush, apply a thin coat of glue all over the outside surface of the jar.
Step 3: Adhere the tissue paper
Working one piece at a time, carefully apply tissue paper squares to the glue-covered jar. Make sure to overlap, and don't leave any spaces with plain glass showing. Don't worry if some of the ends that are overlapped aren't sticking — that will be addressed in the next step.
Step 4: Coat tissue paper in glue
Once you have covered the entire outside of the jar with paper pieces, you are ready to seal the tissue paper with more glue. Carefully coat the entire jar with a thin coat of glue, taking care to get underneath any loose pieces that were overlapping and didn't have glue. You can use your hands to smooth any bubbles or creases. Let dry completely before using.
Mini jar terrarium

Supplies needed:
1/4 cup charcoal pellets
2/3 cup pebbles
1 cup potting soil
1 small plant
Mini garden decor (optional)
Large craft stick
Wide-mouthed, quart-sized mason jar
Instructions:
Step 1: Arrange the charcoal pellets
Carefully pour the charcoal pellets into a clean, dry, quart-size jar. If your charcoal is dusty, you will want to rinse and dry it first.
Step 2: Add the pebbles
Now carefully arrange the pebbles in a layer on top of the charcoal.
Step 3: Add the potting soil
Carefully pour in the potting soil on top of the pebbles.
Step 4: Add the plant
Now, using the craft stick as a trowel, make a hole in the soil that can accommodate the plant. Small hands come in handy here! Carefully place the plant in the hole and lightly pack dirt around the root ball. Place your garden decoration into the soil. You can either leave your terrarium open or seal it closed. If you leave it open, it will need to be lightly watered every other day. If you close it up, you will need to mist the soil lightly with a squirt bottle weekly to keep your plant watered.
Make Mother's Day crafts
Organic Mother's Day gifts
Edible Mother's Day gifts
20 Homemade Mother's Day gifts