Pregnant Celebrity
Photo Gallery
Happy Wednesday Hump Day — also known to us as Celebrity Baby Bump Day! We have rounded up the cutest pregnant celebrities of the week, including Channing Tatum's wife, Jenna Dewan-Tatum, Jessica Simpson and newly pregnant Veep actress Anna Chlumsky. Pregnant Kim Kardashian's blinged-out baby bump and Fergie round out our list of cute pregnant celebs.
(page 2 of 5)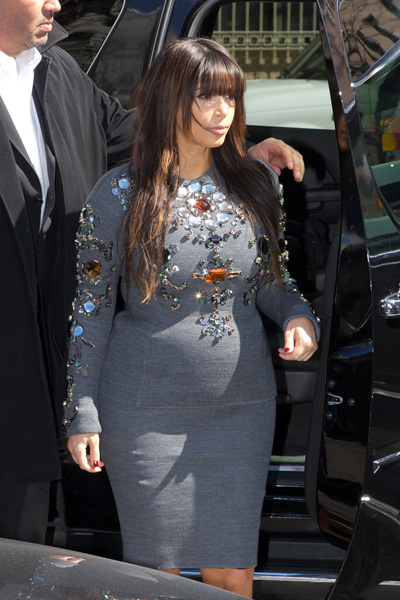 Kim Kardashian
Pregnant Kim Kardashian was spotted wearing a jeweled Lanvin dress as she arrived at The Darby restaurant for lunch in New York City. The reality star is expecting her first child in July with her boyfriend Kanye West.
Kim recently said don't expect to see her give up her Jimmy Choo heels anytime soon, as she told Good Morning America that wearing flats actually "hurts" her!
"You know what, they actually hurt my back. I love high heels … Whatever makes me feel good, I want to wear. And I love wearing heels. I'm trying the flats, but we'll see," she said.
And as far as all those baby name rumors? "I think it would be really cute because Kanye and I are both K's, but half the names on our list aren't K's," she said, adding that Kanye wants a name that is "unique." "We still have time, [so we'll do] whatever feels right."
Next up: Pregnant Jessica Simpson lunches with Maxwell